The flow of information is tremendous in modern times, and the perception of it by people is also evolving. It becomes difficult to monitor and process its streams due to a plethora of social networks, messengers, and apps of all kinds.
For this reason, the strategies of app development are changing to add some more interactive experiences for users. Even small-scale features of gamification in business may lower the level of energy spent on perceiving data, increase loyalty, and simply make mundane tasks more fun.
The fintech industry is no exception, though the sphere was typically considered non-game. Online banking and financial apps are successfully adopting the approaches of gamified solutions and turn their customers from observants to participants.
In this text, we'll briefly cover the perspectives of the growing market, basic gamification principles and mechanics, and some examples of gamification in fintech that illustrate the simplicity and effectiveness of such app design solutions.
Growing market & the future of gamification
Before moving to basic gamification principles, let's look through some raw statistics to make it clear that the tendency of gamification in fintech isn't going anywhere in the near future.
A well-known, credible source Statista has indicated a significant 60% growth in the gamification market in the past 5 years.
Another team of specialists from MarketsandMarkets predict that the market share of the sector will have tripled by 2025, from 9 to 30 billion dollars.
The authors of Forbes claim that gamification techniques multiply the number of newly registered users in times, and gamified training practically doubles the productivity of employees.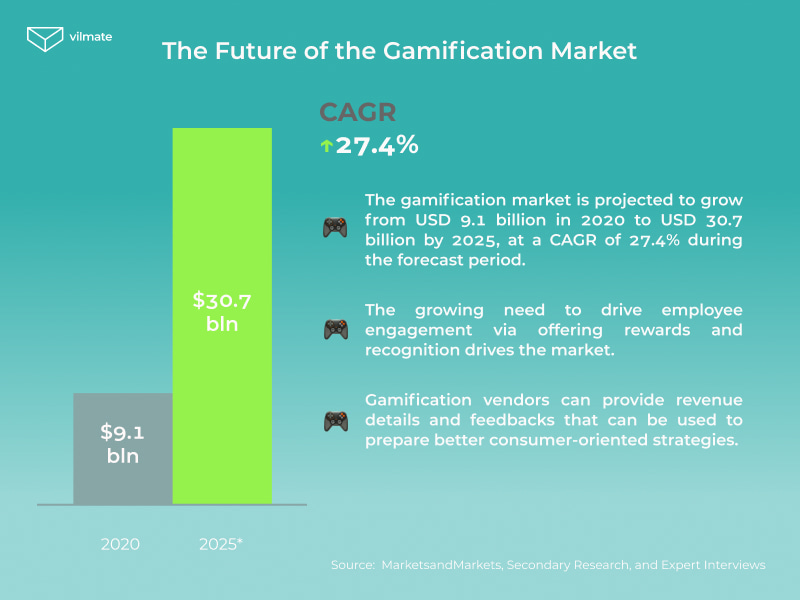 In other words, whatever research you point to, the outcome is that games are something far bigger than a simple child's plaything.
In its turn, the market of online services, including fintech, can't ignore the business value that gamified solutions make and will continue to make.
And now, before moving on to gamification examples, let's discuss a little bit about what stands behind the psychology of gaming. It'll show us why our brains fall for such seemingly obvious and incomplex gaming tricks.
Why gamification in technology works
Any kind of gaming involves the completion of missions and tasks for gaining some sort of rewards and bonuses.
When we get something properly done and rewarded, even small things, our brain automatically reacts to that, giving us some 'dose' of happiness. I've seen with my own eyes (and I'm sure I'm not the only one) so many people getting 'addicted' to solving crosswords or obsessively cleaning their apartments. Not to mention the spread of popular mobile games and online gaming hits.
But for gaming features to have the necessary and expected impact, the player has to be put into a corresponding environment.
Firstly, the rules of a game have to be fixed and clear. Otherwise, players will have the feeling of unfairness and delusion.
Secondly, the reward system has to be balanced and adequate. Otherwise, players will either get bored or discouraged.
Thirdly, the design has to be pleasing and relate to the style and target audience of a game. Otherwise, potential players won't even waste their time to give it a shot.
When these basic requirements hit the bull's eye and complement each other in web gamification, one can observe miracles in the end result.
Let's talk about that in our next section.
Fintech apps implementing gamification
Intuitively the financial sphere is regarded as something adult, responsible, and highly serious. Being financially literate is one of the core pillars of a comfortable life with confidence in the future.
At the same time, paying endless bills, monitoring expenses, setting and achieving goals in savings, and, at least for some, evaluating investments may put constant psychological pressure on you. And if you sprinkle it up with tintless dashboards and dull flows of figures, you may find yourself not far from hating the source of all that trouble.
Fintech app developers have started implementing gamification to prove that gamified solutions work best for diluting mundane financial activities with a bit of fun.
Monobank
Monobank is a Ukrainian online banking app with the impressive score of 4.9 on Google Play (this verb is also there for some reason, I guess :).

Alongside a simple, user-friendly interface, the app is supplemented with a time-killer catch-avoid game and filled with dozens of stickers with a funny emoji cat that celebrates your banking activity.

Moreover, the service called 'Banka' (jar) helps users to achieve the goals of saving for traveling, purchasing consumer electronics, and anything they wish for.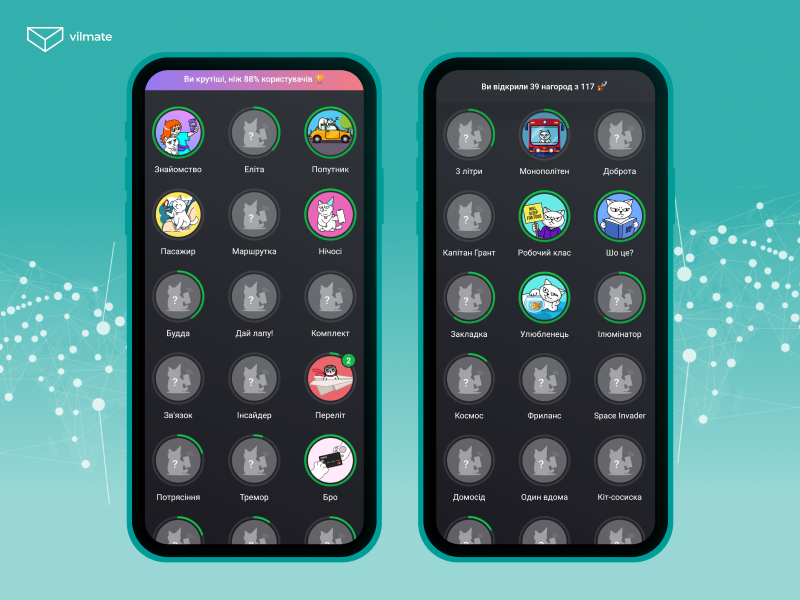 Extraco Banks
Extraco Bank is a local American bank from Texas. Another good example of what all those astounding statistics about the future of gamification are based on.
In order to increase the financial literacy of their clients and boost their activity, the bank decided to inject gamified solutions into its service. They developed a browser quiz game and made up a fictional sim-like character James to interact with customers.
After that, they sent the link of the game to more than 21 thousand people. About 4500 played the game, with 14% of whom eventually opened a bonus bank account. Their vice-president stated that, on average the figures were at around 2% outcome.
So, incomplex product gamification and one lovable made-up character managed to increase the expected result by 7 times. Quite impressive.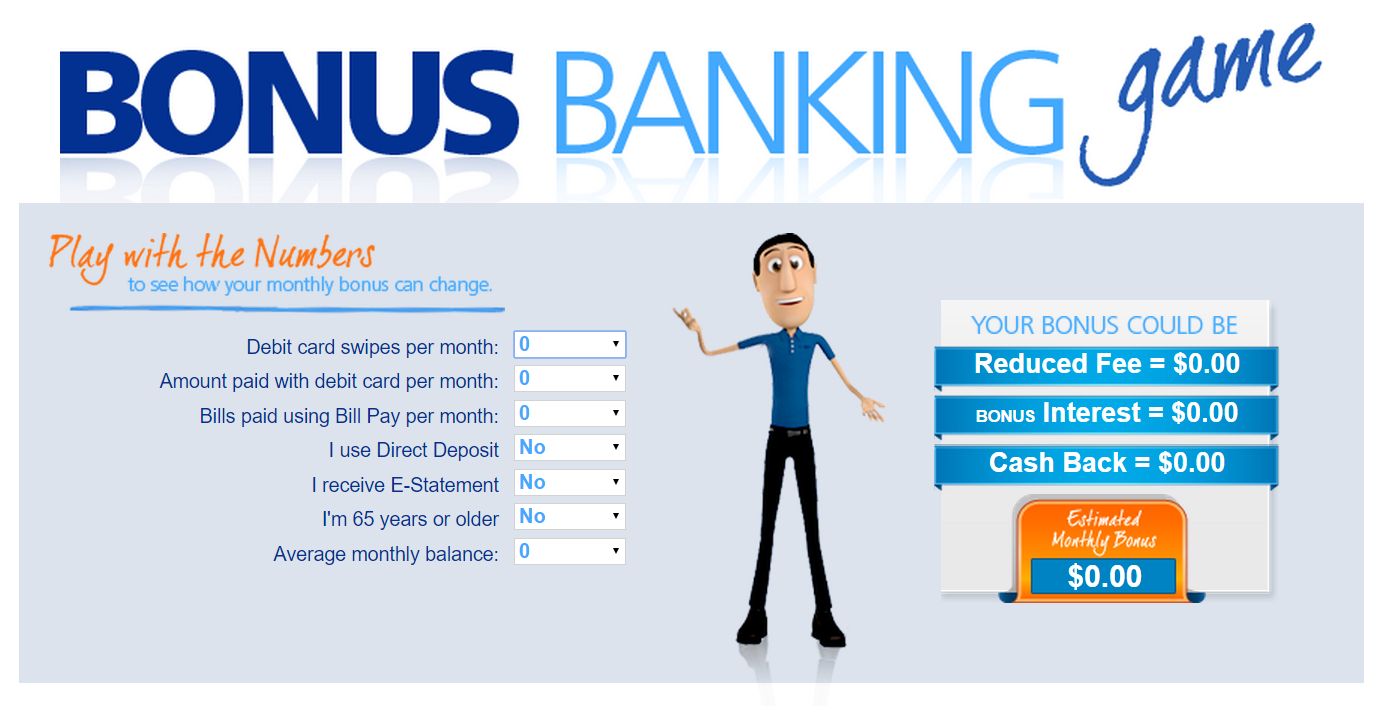 Robinhood
The name of the product hints on the process of 'taking from the rich' of some kind. Of course, it's not exactly like that.
The key feature of the app is that it allows you to make zero-commission orders on the stock exchange without the usual brokerage delays of 20 minutes.
Robinhood is an investment tool with a design that fits better to a game-like app rather than a serious finance operator. The colors of red and green make an impression of a lottery that players are trying to win with every shot of their investments.
Any business is a game but still – never lose your head since the money is real anyway. 'The game' requires informed and reasonable decisions, as no playful design should fade one's inner morality and responsibility.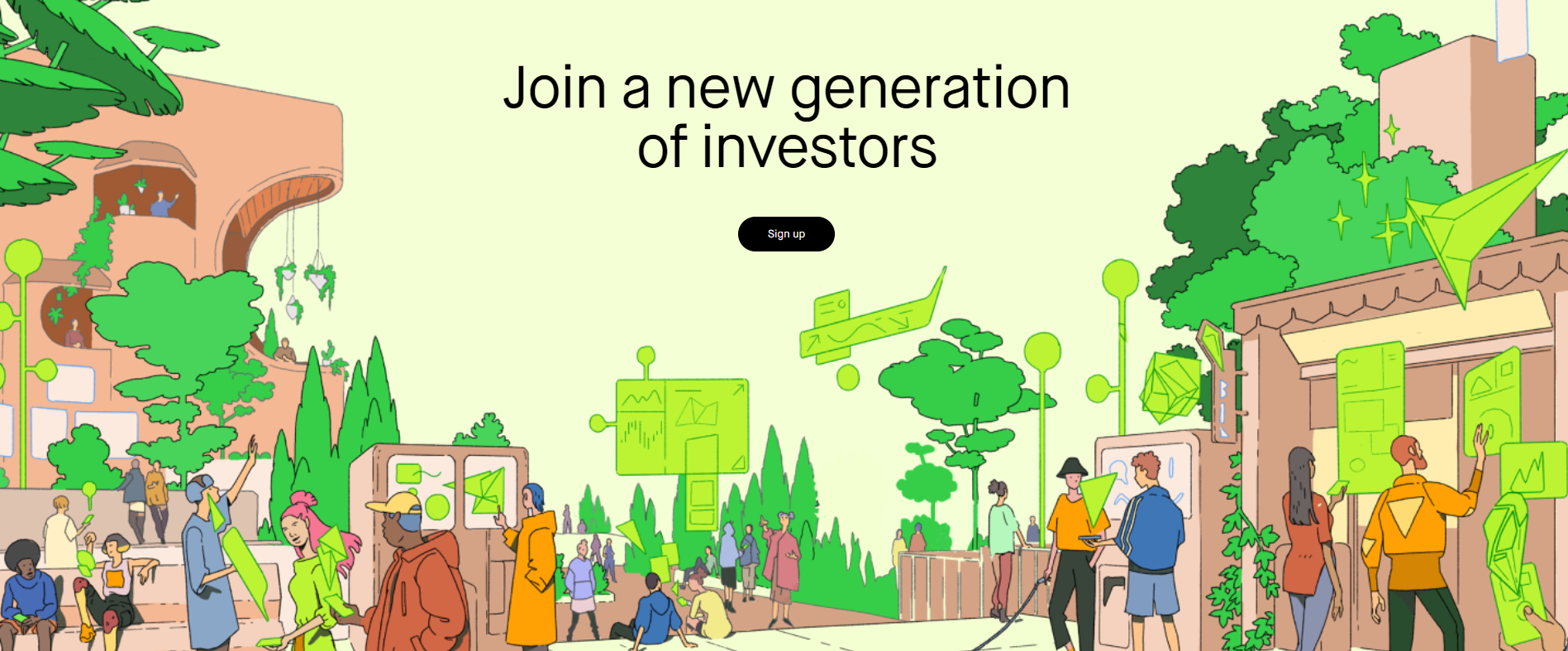 Monefy
Another instance where gamified design converts a finance tracking app into something cute and easy-going.
Monefy is an intuitively clear and understandable expense tracker that helps you follow your transactions, identify your expense patterns, and save money in a fast, simple, and painless way.
Eye-catching colorful icons, dashboards, categorized trackers, and customized interface make you get involved in the game of financial awareness, budgeting, and ultimately – saving.
The sense of achievement that completing the tasks gives is also followed by the realization of you being in control of your life and expenses. It increases the responsibility of your decision-making in the same line with fun. So it basically works for both your kiddish and mature parts of personality, which is invaluable.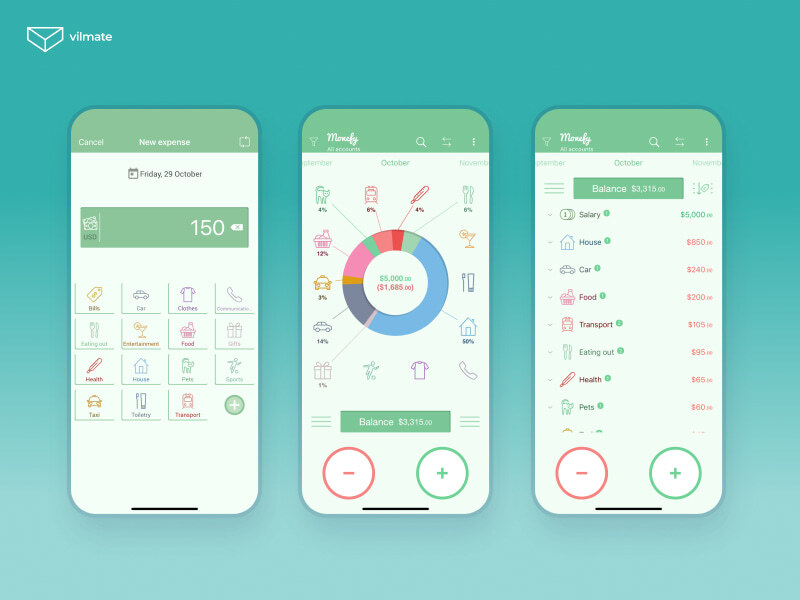 Final words
Well, this was a short abstract about the value of implementing gamification in technology with a few examples of gamified solutions in fintech apps. They illustrate that the future of gamification in business is vivid and promising.
If you want to expand your product and boost it with some additional features, check out our Portfolio and Technologies sections to see all the possible options. Stay tuned with Vilmate! And remember – life is a game, and we're all players :).
Subscribe now
for monthly digest