Without exaggeration, transportation systems are the key to any fully functioning modern society. And not only modern. The first concern of the Roman Empire, for instance, was to build a good road to the conquered colonies (some of them are in decent condition to this day).
So the traffic management system is something that humanity has been trying to perfect for a very long time. Without efficient traffic flow and logistics, any supply chains, tourism, military operations, or simply commuting would be barely possible.
In this abstract, let's discuss what a contemporary intelligent traffic management system consists of, which benefits it brings to the table, and how digital software development transforms our view of traffic solutions.
General components of an efficient intelligent traffic management system
Global communities are aware that transportation plays the role of arteries. They give life to varicolored people's interactions. Naturally, such a considerable sector is of great market value and remains the field of enormous ongoing and potential investments.
According to PR Newswire, the intelligent traffic management system market size is worth almost 20 billion dollars. And is expected only to grow.
Let's see which basic features require such a flow of material and human resources.
So what is an intelligent traffic management system overall?
Basically, it's any kind of contemporary smart application related to transportation modes, traffic flow, and traffic management. It includes traffic monitoring, analytics, planning, optimization efforts, etc. The key thing for these procedures of smart technology adoption is to save users' (in this case, drivers, commuters, and tourists) time, energy, and sometimes even lives.
In the meantime, the era of computation and digitalization requires two principal composing elements – hardware and software.
Hardware is the executing subcomponent, and software serves as the command and analytical center. Let's see how it works in terms of data streamflow.

1. Data collection
That's the part where hardware devices like sensors, cameras, GPS trackers, etc., are called into action. They provide surveillance, traffic count, track speed and time, spot delays or inadequacies, and mark the parameters of vehicles when needed.
2. Data transmission
By using various secure protocols and pipelines, the collected data is passed to a traffic management system center for further storage and analysis.
3. Data analysis
During this step, the data is structured, checked for errors, and exposed to the required logical analysis.
4. Data conversion into intelligent information
After being analyzed, the collected data is converted into relevant information for end-users. It can represent real-time route changes, the current condition of the road, delays, accidents, etc.
5. Data transmission to end-users
Logically, the whole point is for us, end-users, to get the needed intelligent information in any preferred way. Will it be mobile apps, traffic advisory radios, connected wearables, or automated emails, it's entirely up to you.
To see how it works in reality, let's cover a few actual features of a traffic management system that you can stumble upon even in your local area.
Common features of an operating intelligent transport system
Enabling certain technological advances and making them operate together brings essential benefits to urban infrastructures and their intelligent traffic management. Basically, such features are one of the major factors that transform an ordinary living area into a smart city.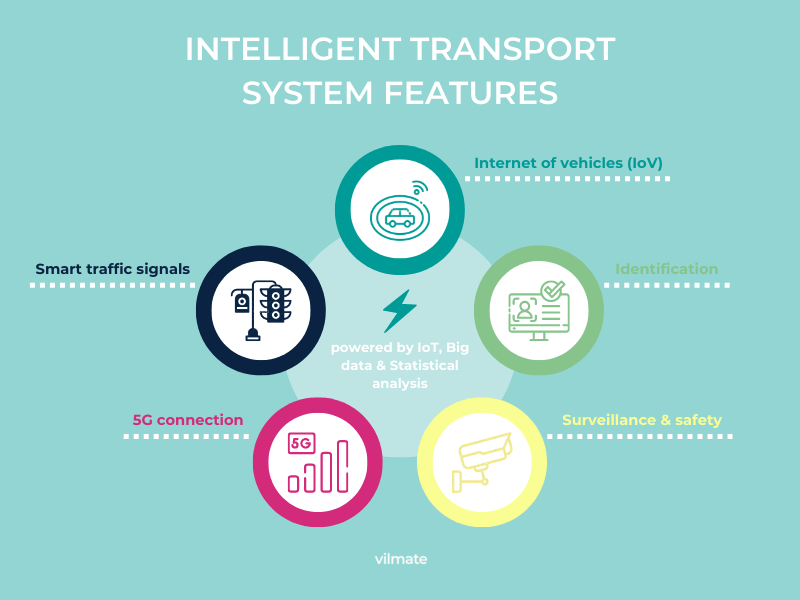 Connected vehicles
The principles of IoT (internet of things) technologies embrace the concept of inanimate objects 'having a conversation' with each other. Being able to have bi-directional communication, cars, buses, trucks, trains, etc., may receive real-time triggers for adjusting their traffic behavior.
Moreover, they can identify not only each other but also the constituents of a traffic control system. Traffic signals, intersection spots, toll booths, and other infrastructure components can directly connect to the nearby vehicles. By using 5G and artificial intelligence features, wireless hardware forms its own net of interacting devices.
The so-called 'internet of vehicles' already exists in many parts of the world. And the statistics show that the market share of this sphere is expected to grow, as it brings more safety and stableness. Also, big data analytics tools help in predictive traffic planning and optimizing traffic flow.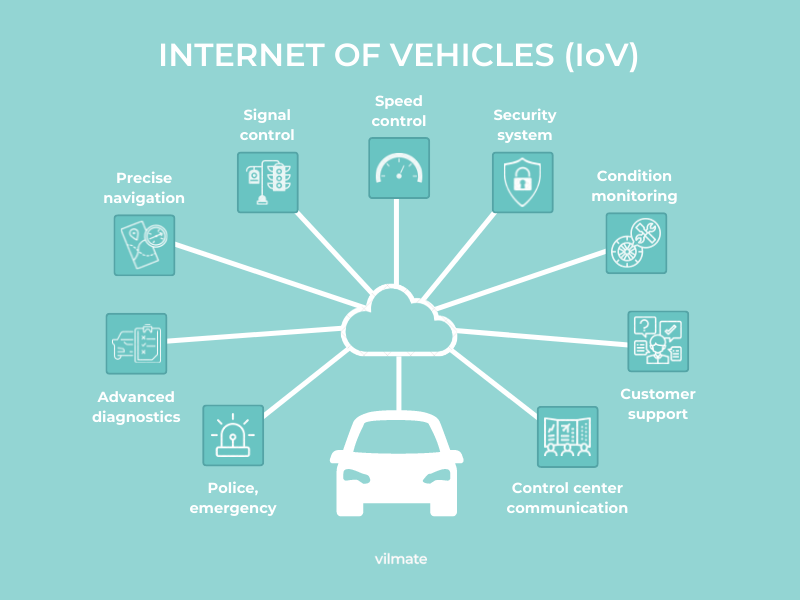 Smart traffic signal control system
Reacting to loads and timing, smart solutions in signal lights systems can be truly beneficial in reducing traffic congestion. Relying on the number of vehicles, data from queue detectors and cameras, smart traffic signals can adjust to the patterns of busyness at intersections and other crucial road traffic areas.
Starting from an average driver and finishing with logistic enterprises, everyone wins. It saves time, energy, fuel consumption, and serves as a general optimizer of the interaction between traffic signals and road users.
ANPR (automatic number plate recognition)
Modern surveillance cameras are highly sensitive and far-reaching. Equipped with intelligent recognition systems, they can do the job in seconds that 50 years ago would take weeks and months.
Software with optical character recognition capabilities can track stolen or unlicensed vehicles, identify violators, and register overspeeds. Furthermore, infrared lighting allows ANPR to perform its functions any time of the day or night.
At the same time, the public must always watch for the ethical use of such technologies. For it not to turn into a 'big brother' tool.
Global implementations of intelligent traffic management systems
To have a more illustrative view of operating intelligent transportation, let's look at the global implementation of smart traffic management systems.
Singapore – a smart state with smart traffic
Singapore is a real phenomenon. The city-state which within a few decades managed to transform from one of the poorest Asian regions into a global business and software development center. Unsurprisingly, it has one of the highest GDP per capita. And their advanced traffic management system is the logical outcome of that transformation.
All the buses, taxis, and trains are equipped with GPS trackers.
The schedule is responsive to the rush-hour peaks and the passenger flow.
Specifically designed apps help commuters and visitors get the full information about the expected public transport (including even the availability of free seats).
All the fares are fixed and correspond to the distance and personal preferences of passengers.
By today the population of around 5.5 million people has to get along in the area of 730 square kilometers. And 1.5 million annual tourist flow adds to the picture. With such a density, their intelligent traffic management system has to deal with a huge load and perform its functions flawlessly.
New York City – major US transportation hub
The Department of Transportation of New York generally pursues the same goals as Singapore authorities. But on an even bigger scale.
Their intelligent transportation system program MOVES (Mobility, Operations, Vehicular systems, Environment, Safety) clearly sets the priority on improving transportation management with technological advances.
The program emphasizes cost-effective deployment that will result in:
Area-wide, real-time operation of the transportation system
Integration of an enhanced, multi-modal transportation system
Development of user-friendly location-based services
These instances make it obvious that the governments are ready to invest huge resources into improving the transportation management system. It brings us to the point of the benefits that the mentioned features of smart traffic management systems bring to the game.
The overall benefits of an ITS
So which major strengths can be achieved by injecting intelligent transportation into the infrastructure?

Safety measures
Safety is the number one reason for any improvement in road traffic. In the sphere where speed and heavy machinery are combined, one has to be confident that any kind of danger is minimized or absolutely eliminated. Predictive traffic planning, automated traffic signals, and transparent penalty systems for violators significantly reduce the risks of accidents.
Economic value
Commonly, right after safety goes money. Well, what can you do, it's in human nature. But in terms of local and governmental policies, it's not about just making money. It's about efficient allocation of resources for the public good. So even the slightest improvement on a big scale may have a cumulative effect and a positive collateral impact on other economic spheres.
Environmental awareness
Luckily for us, the average citizens of their countries, the global community has started to put environmental issues to the fore. The world is trying to become greener and lessen the damage of human activity to nature.
Practically all of the features of smart traffic management systems are designed to meet the policy of reducing carbon footprint and achieving climate neutrality. Even one properly applied traffic congestion control system for a megapolis can save billions of gallons of wasted fuel per year.
And now, let's have a look at the project on intelligent transportation and logistics that the team of Vilmate assisted in.
CityFlow route planner app
CityFlow is a route planner for managing fleets around Europe, acquired by the leading transport provider in Scandinavia. It includes a mobile application and a web portal.
The main goal was to develop a tool that would help optimize automobile routes based on different criteria:
Day of the week
Precise time of the day
Roadworks and closures
Possible traffic jams
Fuel consumption
Using this tool, travel companies and private users can improve the quality of services, build more cost-effective business models, reduce fuel consumption and emissions, and, generally, enjoy all the benefits that an intelligent traffic management system provides.
All the data is real-time, and any connected vehicle or a fleet can conduct direct communication with the service databases at any moment.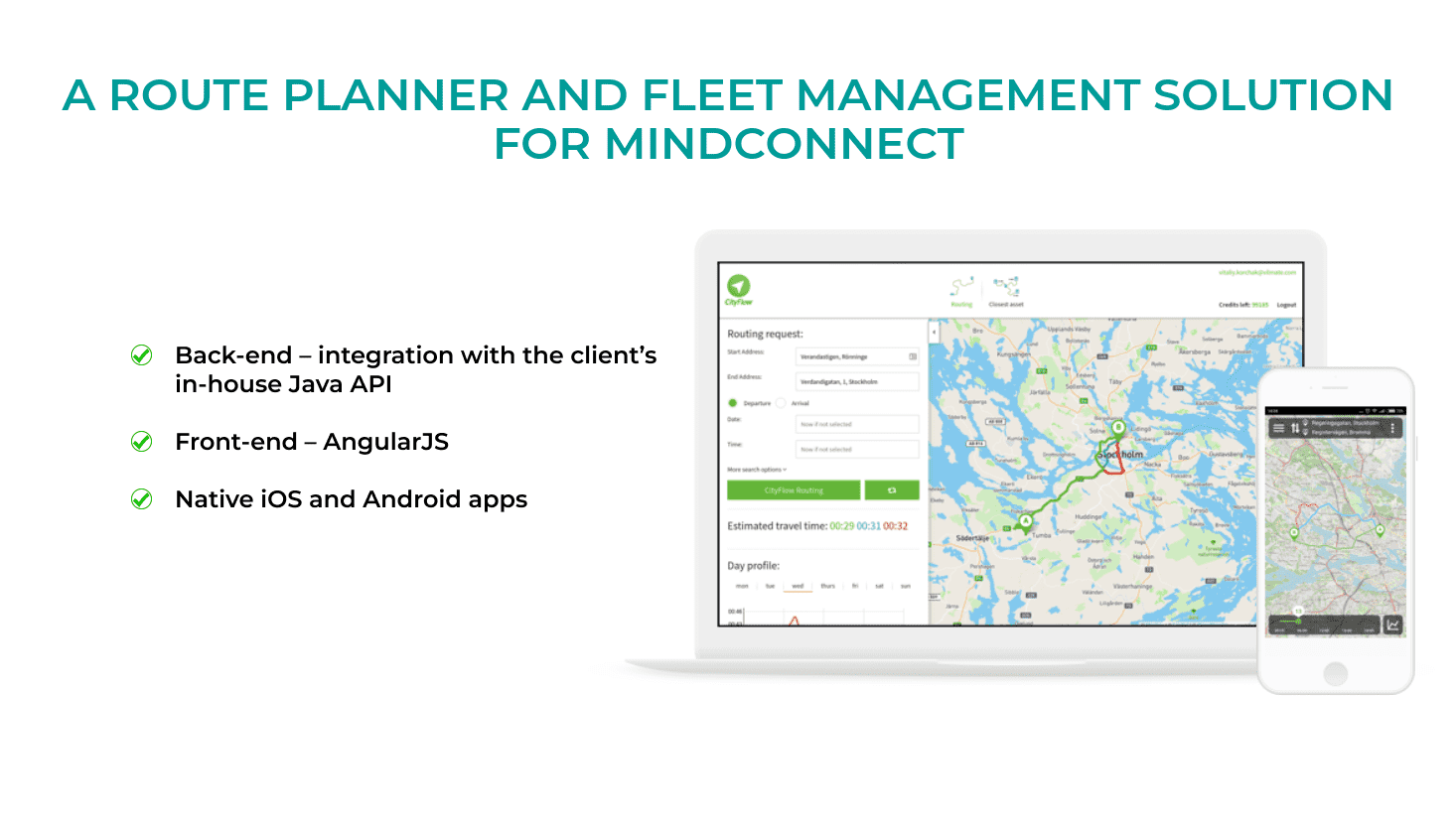 It's a good example of an innovative smart-mobility and route planning solution that eases quite a bit of procedures. At the same time, it meets the tendencies and challenges of the modern world regarding the environment, software development standards, and smart control systems.
Vilmate was glad to contribute to this effort to improve transportation management. All the deadlines were met, and the technical solutions for the assigned tasks worked as expected.
Final words
So as we see, a modern traffic management system is something that can't be overlooked in the 21st century. Contemporary software development tools combined with hardware assets and big data analytics put intelligent traffic management to the next level. It reduces traffic congestion, optimizes traffic control, and sets new challenges for software development services.
Check our Portfolio to find more cases of Vilmate cooperation on the topic of logistics and intelligent transportation. Also, look through our Services offers that will empower your projects and expand their functionality. You won't regret it for sure :)
Stay tuned with Vilmate! And contact us any time of the day :)
Subscribe now
for monthly digest