Against the backdrop of the pandemic, healthcare is undoubtedly on top of every mind. The quality of our lives directly depends on our health, making this sphere the most vital of all.
Similar to other spheres, to properly harness the benefits of IoT in healthcare, medical companies adopt modern concepts, develop advanced equipment, and try to put the procedures of diagnosis and treatment on a higher quality level.
The concept of IoT in healthcare helps the medical personnel, alongside all others involved, achieve the goal of giving us a better tomorrow.
In this article, we'll have a look at the IoT itself and the grounds that make it one of the milestones in terms of technological development.
But most importantly, we'll try to dig into the following questions:
Why does the IoT in healthcare market keep on growing?
What shapes the IoT healthcare market trends and perspectives?
Which major points define the future of IoT in healthcare and our day-to-day lives?
What IoT stands for and why it matters
The idea of adding some intelligent behavior to inanimate objects is not new. Mankind has always been wishing to put machines into their service to achieve wealth, increase the volumes of manufacturing, or shuffle off the burden of a dull manual job.
The Internet of Things is a global system of interrelated computing appliances. Basically, it enables billions of devices to be tied together and operate in tandem.
By adding some data perceiving features and an internet connection to different equipment items, we enable electronics to operate with information without human interference.
Whereas information is called 'the modern oil', IoT can be called 'the oil pumps', which help us extract it and transform it into something valuable.
That's why companies are extensively adopting the cloud due to cost savings, data availability, flexibility, and scalability. Do you want to leverage the fullest potential of your infrastructure? Then dive into our detailed article about data management in the cloud.
4 layers of data processing and sharing
Perception layer
Network layer
Support layer
Application layer
Anything that collects data: sensor devices, readers, etc.

Any infrastructure that enables internet connection, including communication protocols.

Anything that helps accumulate and manage data streams, like

cloud computing

and IoT platforms.

Anything that serves for delivering solutions: reporting, analytics, data presentation.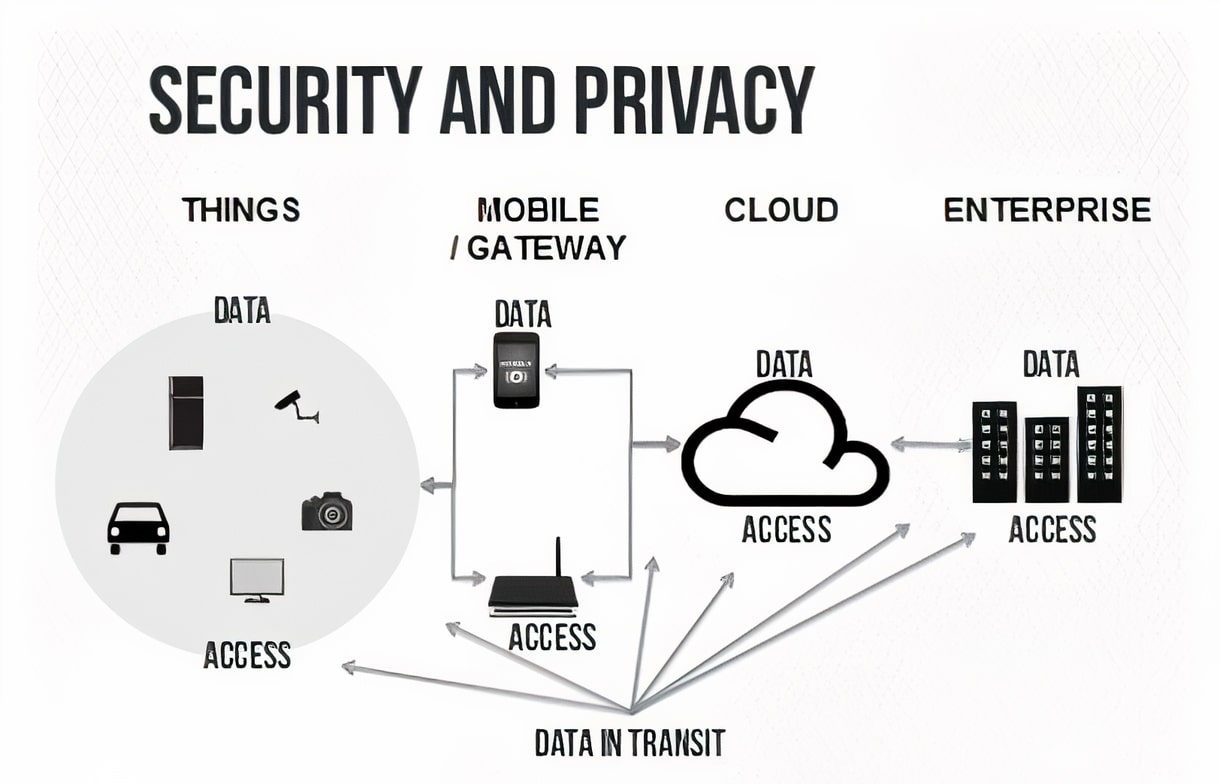 The secret behind the ubiquity of IoT
Statista predicts that by 2025, the number of electronic devices connected to IoT will have gone higher than 30 billion. The figure is more than impressive.
The fascinating thing about IoT is that practically any object equipped with a few quite affordable attributes can become a part of it.
But let's be clear. In this article we will be referring to the IoT items that are usually not expected to have a connection to the internet. It means that despite the fact that a laptop or a mobile phone has all the features of IoT, we're leaving them out of the carriage for now.
What makes IoT so adaptable?
The spread and influence of IoT are difficult to overestimate. Some even compare it to an enormous robot, which we highly depend on, and which is also difficult to adjust.
The scale of devices which can be considered a part of IoT really strikes the imagination. From pixel-sized sensors to gargantuan manufacturing pieces of machinery, all of them can share the concept IoT provides.
It has opened unforeseen opportunities for a number of industries, like:
Transportation & Logistics
Manufacturing
Sports & Fashion
Utilities
Smart Cities
And now it's time to center our sight on the medical IoT and the benefits of IoT in healthcare.
IoT becoming the Internet of medical things
It's easy to compare the human body with a machine, the performance of which inevitably affects the way we live.
To put such a comparison even further, we can say that we have to realize what it consists of, and which part we need to fix to make this machine perform its functions properly. It can be called 'diagnosis.'
But unlike a machine-tool, the human body cannot be reassembled so easily. And the risks of an unwanted effect on any other process rise to the highest peak.
That's why adopting IoT in healthcare requires more sophisticated approaches if it comes to treatments that directly intervene in the body. So we can say that healthcare puts the highest challenge against IoT and raises the stakes, as we're talking about people's lives.
Let's look at some use cases of the internet of medical things and the advances it's already bringing to such an important industry.
Real-time locating for patients & equipment
A simple GPS tracker connected to the internet can bring more benefits than you might think. In terms of hospital routines, it can help track any needed equipment for the staff, patients, and visitors.
You can easily spot the nearest accessible wheelchair or stretcher. Or you can set a route to the closest pharmacy or cafeteria. A therapist will always know the location of the patients with heart diseases to provide the quickest help possible when needed.
Similar to sports wearables, the applications of IoT in healthcare can serve the same purpose. Your temperature, blood pressure, heart rate, and other measurements serve as a reflection of your current condition.
But unlike fitness, it's common for the medical sphere to inject IoT devices directly into the body. It enables doctors to obtain precise data about patients' blood glucose and oxygen levels or any other measurements that are difficult to get externally.
The scale of the size of IoT devices makes it possible for them to be literally microscopic. However, they can still hold the necessary level of functionality.
Thus, nano-drug delivery systems continue to direct the future of IoT in healthcare, boost the efficiency of treatment, reduce unwanted side effects, and open new ways of dealing with life-threatening diseases.
As you can see, the global market illustrates that regardless of the region, the interest for this sphere will continue only to grow.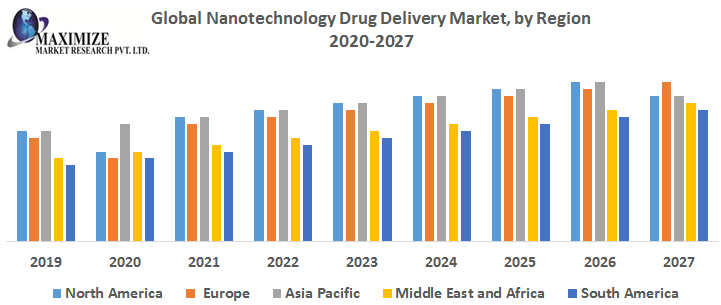 Lethal diseases treatment
Such diseases as cancer have always been one of the biggest challenges humanity faces. Millions of people are struggling with the symptoms in the fight for the living.
The emergence of IoT-based symptom tracking apps has given them more freedom of movement and confidence that the assistance will be immediate. Such devices can also send updates to a patient's physician showing a precise picture of treatment response.
IoT for medical insurance companies
The devices connected to the internet of medical things can provide the insurance companies with unbiased data for better risk assessment processes to bring transparency between insurers and customers.
It can also help detect frauds and add adequate visibility to any situation of the kind.
Why is IoT in healthcare market growing?
According to GlobeNewswire, the investments are to reach more than $170 billion in the following few years. Such a tendency is not surprising, as health remains the top priority for most people.
At the same time, the bottlenecks IoT for healthcare has to get through are unarguably tough.
Each person is a unique being with their own background of life and reactions to different stimulating agents. Every treatment case requires careful examination and may fail to follow a standardized pattern.
Nevertheless, IoT healthcare market trends continue to show a positive dynamic.
Let's take another instance. MarketsandMarkets predicts that even a smaller share of the IoT market, the medical devices' sphere, is to gain $70+ billion in the following 5 years.
What forces the investment leaps for IoT in healthcare market to be so huge?
To say the least, the benefits of IoT in healthcare provide multiple opportunities to ease a great number of procedures for doctors and patients, make diagnoses more accurate, and, most importantly, reduce the response time between a physician and a patient. Or it's even better to say ‒ between a physician and the patients' health condition.
One of the most popular directions in smart healthcare, electronic health recording, allows medical startups to find their way on the market, adding their bit to IoT healthcare market trends. Another great example is health insurance applications and services.
And now let's have a brief look at some of the spheres that indicate the blooming future of IoT in healthcare.
Top 3 IoT healthcare market perspectives
1. IoT-aided robotic systems
The combination of AI and sophisticated medical equipment has made the term 'robotic surgery' a part of our reality. The robotic equipment based on AI has shown bigger efficiency in performing delicate surgeries and reducing the time for the patients' health recovery.
Above that, such robots can be integrated into a bigger-scale IoT system. Interconnecting with sensors and actuators of various IoT devices, they serve as a valuable extension of the internet of medical things.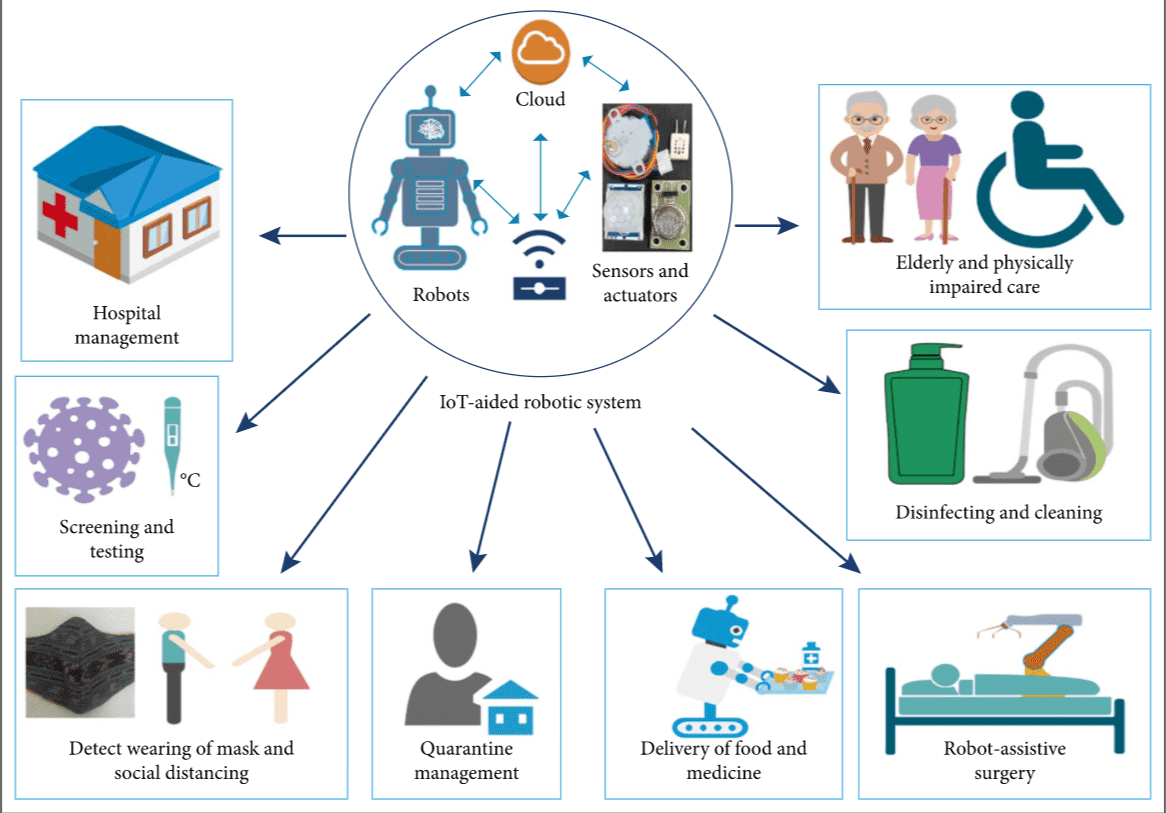 2. Smart hospitals as the future of IoT in healthcare
Being 'smart' means being paperless, secure, and cost-saving.
Provided we can use such an attribute to a plethora of things, it would be foolish not to apply it to hospitals, the place where each process requires maximum accuracy, safety, and efficiency.
The ability to store and manage data in the cloud gives an opportunity to save time for multiple procedures, and ease the interaction between a physician and a patient, both face-to-face and remotely.
According to PR Newswire, the global market of smart hospitals will have exceeded $100 billion by 2026. It would be hardly a surprise if those estimates turned out to be too humble to meet the actual reality of the future, since the benefits are too considerable to ignore.
3. 24-h elderly care
It's common knowledge that the population of the planet is growing older. The number of people over sixty is predicted to have tripled in the next couple of decades.
In terms of active aging, nursery homes may not be the best solution, despite the need for 24/7 health-monitoring in some cases.
Instead of full-time residential care, IoT in healthcare applications allow the medical personnel to gain full insight of the person's current condition of health remotely. And even prevent potential health issues, relying on the collected data.
Bottom line
As we've figured out, IoT items are already around us and the concept itself shares similar features as the 'usual' internet when we're talking about data circulation.
Regarding the future of IoT in healthcare, it is mind-boggling in terms of business perspectives. And the vested interest in the rest of the related aspects isn't going to decrease any time soon. In other words, IoT in healthcare market still holds a lot of potential under the hood.
Notably, the benefits of IoT in healthcare are only beginning to reveal themselves, and the history of IoT in healthcare will definitely continue its path to new horizons.
Therefore, IoT healthcare companies will continue expanding the market, as the potential rewards are priceless. Do you want to harness the power of IoT in healthcare? Vilmate team will be glad to assist in your journey! Get a free quote for your project and catch the IoT wave with Vilmate.
Subscribe now
for monthly digest