Logistics complexity and sophistication highlight the technological development level of a country, region, or enterprise. Why so? The reason is the number of components, complex operations, and the combination of logistics management system software tools required to achieve the goals of inbound and outbound logistics solutions.
Storing and delivering materials or goods to certain destination points at the right time may seem like an ordinary task. Nevertheless, looking closer at the overall process, it becomes clear that setting up, maintaining, and monitoring an efficient logistics system is far from simple and low-tech.
It will be a long journey but let's try to answer a few massive questions in this text:
What's a logistics management system?
Why is it so important for businesses to keep up?
Which modules are present in the logistics management system infrastructure?
What are the common solutions for every stage of supply chain management?
The importance of logistics & investment background
The relevance of logistics operations in the modern world is out of the question. This sphere can be put in the same line as real estate and healthcare. Be it manufacturing, retail, catering, construction, or any other sphere of service – there's always something to move from point A to point B in a certain volume.
Obviously, the investment background is in a constant boom, as the outcome related to efficient logistics and supply chain management is too fruitful to be ignored. For instance, the prospects of investment and development in the logistic facilities real estate market in Europe increased between 2018 and 2022, according to industry experts. And funding for logistics software development startups almost doubled in 2021.
Logically, the technological and digital aspects are in major focus. The authoritative portal of The Wall Street Journal witnessed a flood of big money from governments and the private sector pumping up logistics software development endeavors.
Logistics & Logistics management system
Before all, it's a good idea to cover the basic terms of logistics and a logistics management system.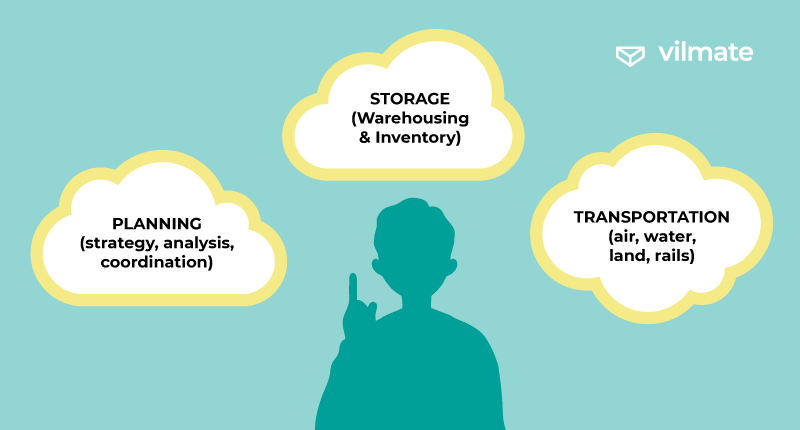 In outline, the logistics industry deals with the planning, storage, and transportation of goods of any kind.
Planning includes building strategies, data collection and analysis, calculations, and coordination efforts.
Storage is mostly about warehouse and inventory management.
Transportation management in logistics focuses on shipments by air, water, land, and rails.
Surely, each point includes dozens of subcomponents, but the main goal for all of them is to provide customers' order fulfillment in the quickest and most cost-effective way there is.
So what's a logistics management system, or LMS?
Basically, it's a set of logistics software tools that helps to increase inbound and outbound logistics efficiency. Starting from processing orders and finishing with the delivery to the customer, a logistics management system acts as an analytical and executive brain for each stage of logistics operations.
Let's look closer at technological solutions that are common for the logistics industry implementation in the next section.
Logistics management software divided in modules
The topic has a lot to consider, so in order not to get lost, we'll cover logistics management system modules one by one, from the point of the product ordering to its delivery to the customer. In other words, we'll have a small tour across the multiplex world of logistics software.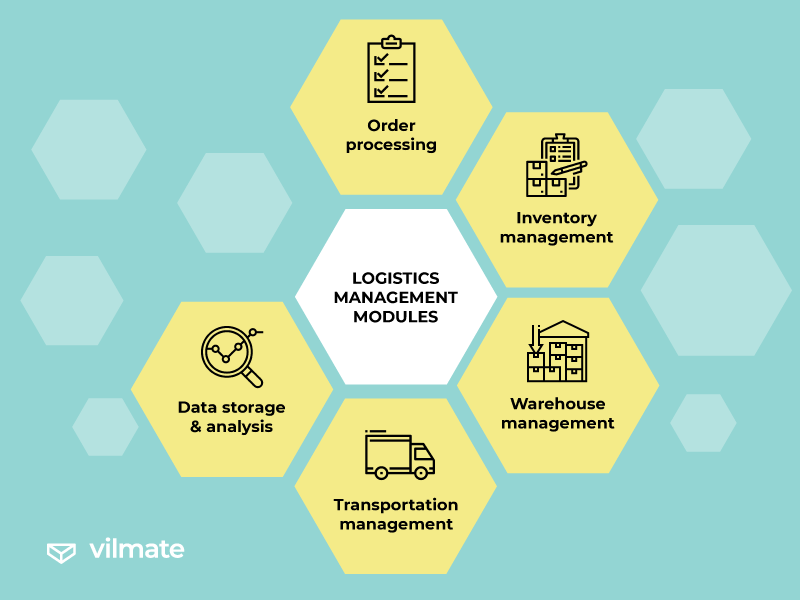 Order processing module
Assuming that the product is manufactured and put for storage awaiting the purchase, a buyer has to make the first move.
Order management software plays a key role in providing customers with product information, availability checks, processing payments, ensuring security, and even handling document flow between suppliers and warehousing. With that said, order processing systems serve as a digital window for customers to look through and virtual tunnels for the accurate product journey across logistics streams.
What features do customers expect to see while making an order?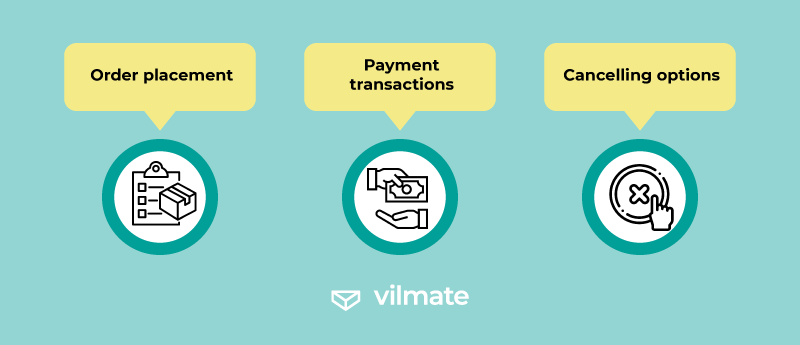 Modern search and filtering functions have to be user-friendly and sophisticated at the same time. The desired items for purchase have to be clearly listed, sorted, and filtered by name, brand, technical or physical characteristics, classification, price, popularity, feedback, and many more.
Once the needed item is found, a customer should be able to have access to editing features. There, they can set the quantity, color, model, or any additional features, depending on the product type. Moreover, a comment field for specific unlisted wishes is also a must-have.
Since global commodity circulation is marching towards digitalization, payment transactions have become part of order management systems. Whatever payment method one has to pick from, it would involve numerous fields to fill with sensitive data. Clients' names, addresses, credit card numbers, authorization emails, and other personal info are big targets for scammers, identity thieves, and other financial criminals. All access points and payment gateways must be proven trustworthy and up-to-date with current security measures.
Canceling, refunds & purchase returns
Many of us faced the situation when returning something and getting a refund turned into a nightmare. Nevertheless, this aspect of reverse logistics is constantly improving with the help of logistics management systems.
In order to ease the customer experience, logistics management software should provide the following:
customer support
clear terms and instructions for a product return
a few payback options to pick from
So if you want your order management system to be unified and integrated, it should be filled with many interactive features. On top of that, without stable communication with the rest of the logistics software modules, it won't be able to provide relevant information to potential customers about the product and its state.
Inventory management module
Knowing and controlling the amount of product for sale is another vital aspect for any business using logistics management software. Considering that the incoming and outcoming product flow is changing rapidly, inventory tracking requires reliable and automated logistics software solutions. Small businesses may stick to classic spreadsheet systems, but companies receiving, storing, and selling thousands or even millions of diversified goods can't be satisfied with such inventory management solutions.
Modern inventory management software serves as a means for centralizing product data. Its main goal is to monitor and report on any inventory changes in order to keep the balance between the estimated product demand and supply. Basically, such logistics software tracks stock levels to ensure maximum product availability for each interested party.
Warehouse management module
Warehouses are not only the center of storage but also the center of distribution. Warehousing facilities of global market players are so huge and bustling that they resemble a small country with its own laws and rules of existence. But even smaller-scale cases require big spaces, careful auditions, and ever-present warehouse management operations maintenance.
Commonly, warehouses include 4 main types:
Raw material
Finished goods
Temperature controlled
Cross-dock
Each type is for specific purposes. However, all of them share similar features in terms of warehouse management. They include security-controlled entry and exit gates, receiving and dispatch docks, storage locations like rack or floor storage, and material-handling equipment. Other areas include sorting, packaging, kitting, and de-kitting areas.
The main goal of a warehouse management system is to help in operations across warehouses and give critical data about each warehouse state. Without that, any inbound or outbound logistics process would be difficult or even impossible.
Transportation management module
Transportation management systems in terms of logistics are responsible for delivery scheduling, route planning, freight management, and order tracking. Operating in close connection with warehouses and analyzing the shipment data details, transportation management systems:
choose the most efficient way of delivery (air, water, land, rails)
calculate costs
estimate the destination time
monitor freights, fleets, aircraft, or separate vehicle positions in real-time
IoT elements and GPS tracking devices are common for integration in transportation management solutions. Not to mention driverless vehicles, smart fleets, and automated loading points.
Logistics analytics module & databases
Obviously, so many interactions of such a number of interdependent components produce vast amounts of data. As they say, data is the oil of the 21st century, so it needs to be securely stored for further use.
Logistics software development companies mainly offer cloud or in-house solutions depending on the scale, intensity, and complexity of the order fulfillment process. Regardless of the chosen solution, the databases are expected to be secure, stable, and easily available for production logistics.
With the help of AI/ML analytical tools, these vast volumes of data are scanned for patterns, which are further applied for strategic planning, avoiding inadequacies, and forming more accurate reports and business predictions.
Major benefits of a custom logistics management system
You can apply manual counting in combination with Excel spreadsheets, build your own logistics software, or pay for the services of an existing 3rd-party logistics provider. It depends on your needs, goals, eagerness to dive into the question of what logistics management software is, and, in any case, the resources that you have available.
Despite the fact that ready-made solutions may meet the requirements of many logistics operations, especially for small and medium-size companies, the benefits of having a custom logistics management system are immense.
First of all, custom logistics management system development is a complex process, with many stakeholders involved in the decision-making process. Nevertheless, better information flow and improved communication between all stakeholders are definitely worth the effort.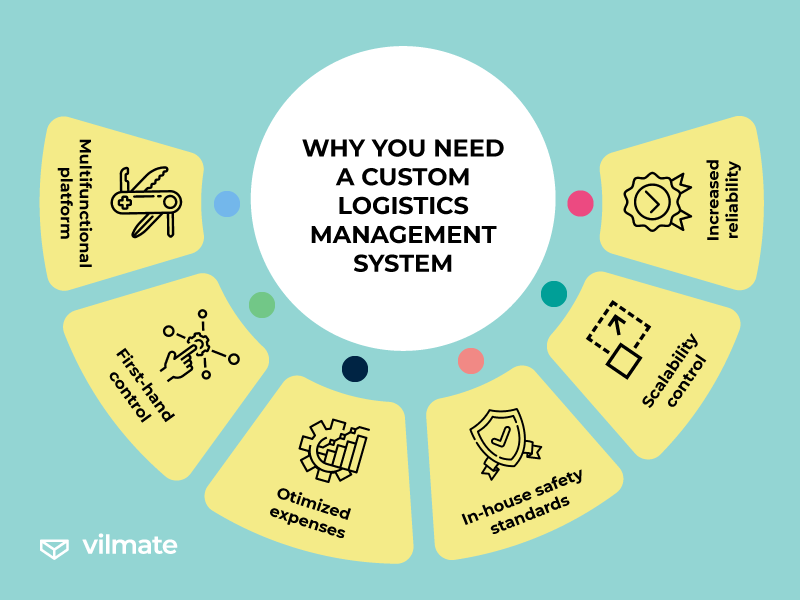 So the benefits of investing in the development of your own logistics management system are as follows:
The company receives a platform that integrates all aspects of logistics operations.
The first-hand control and visibility of the produced data increase the precision of forecasting and business planning.
The maintenance expenses are more easily optimized, as well as the expansion of functionality when necessary.
Safety standards and security measures become the responsibility of in-house specialists, which increases control and agility of operational functioning.
The control over scalability allows the software to grow proportionally to your business.
You don't have to hang upon the conscientiousness of some third party. When you build your own standards, it eventually increases software reliability.
The bottom line is that in-house logistics software systems will require more attention and resources than ready-made solutions, but they pay off a hundredfold in the long run.
Final words
So this was an overview of what an effective logistics management system includes and logistics operations as a whole. Globalization and expansive marketing policies are constantly pushing technology in the logistics industry to higher grounds. And technology in the logistics industry finds a fruitful basis for various software implementations.
There's a ton of ways to improve your business logistics processes with the help of ready-made logistics management systems, custom solutions, or 3rd-party providers. Find a few minutes to look through our Services and Technologies pages. You'll definitely come across the options you've been looking for in your project ideas. Also, check our Portfolio section. It'll cost you nothing :)
Stay tuned with Vilmate! And remember – going slowly doesn't prevent arriving :)
Subscribe now
for monthly digest