Online business is promising, profitable, and modern. To launch a successful online business, you can choose a SaaS business model. The benefits of the SaaS business model are impressive, but you also need to be aware of the disadvantages. So you can understand if such a model is suitable for your business.
What is the SaaS business model, and what pros and cons does it have? In our article, we'll dive into that topic in detail. Also, we'll discuss how to build a SaaS business model right.
SaaS business model explained
Software-as-a-Service (SaaS for short) is taking over the market. According to Statista research, about 25,000 companies chose the SaaS business model in 2021. SaaS business involves selling custom software to customers, not a one-time product. The user buys a license and then can use the software by renewing the subscription.
A SaaS company creates a product, supports and develops it, and provides paid access to customers. Most often, the product is billed monthly, but there is also an annual or weekly subscription.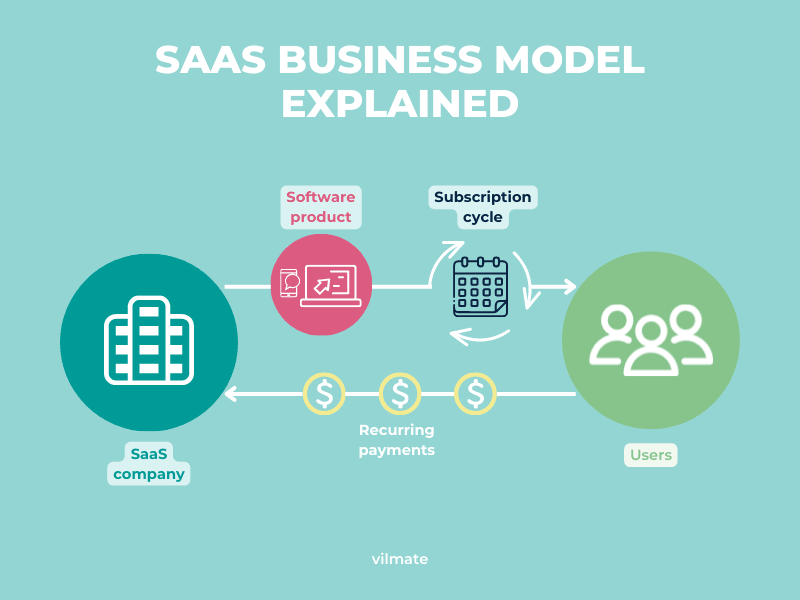 Customers who have purchased a subscription get access to the full software or a separate paid part of it. Users can do this through a mobile SaaS application or web browser, so they don't need to download and install additional software on a smartphone or computer.
This model is beneficial for clients. Firstly, they don't have to pay the entire amount at once for an expensive application. And secondly, they don't have to provide space on their computers. Moreover, they can access complex functions from a device that isn't the most advanced. It becomes possible thanks to a thorough consideration of cloud storage and database setup.
Consider the most popular types of software for a SaaS business model.
CRM (customer resource management) systems
They allow the company to coordinate the actions of employees, track sales, and create successful leads.
It helps to structure the company's budget and issue invoices.
Web-hosting
Remote services help companies host their sites on the Internet and provide easy access.
Data management
SaaS products that help analyze and protect data.
SaaS solutions can be targeted at enterprises or directly at customers. A focus on other businesses (B2B) will help companies grow. Focus on customer service (B2C) will allow you to provide users with interesting products.
We hope the SaaS business model explained above has sparked your interest in starting your startup. And now, we're ready to discuss the stages of SaaS product development.
Stages of SaaS product development
For your SaaS company to succeed, you need to distribute resources efficiently. Roughly, you'll have to go through the following main stages: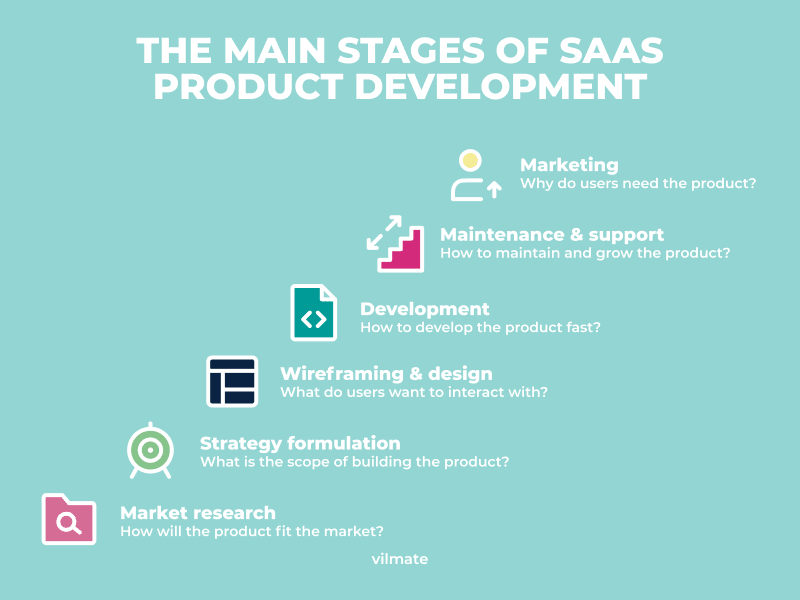 Market research
SaaS companies must provide a quality product to be successful. You use your own experience and market research to create the perfect platform. Before starting to develop a SaaS business model, you need to understand what features customers will need, what they are willing to pay for, and their "pain and gain".
Strategy formulation
A product strategy is a sophisticated plan that outlines the goals of your product and how you intend to do so. A SaaS product strategy gives the team a framework for understanding their tasks and aligns them to make decisions in light of the wider picture.
To create a SaaS product strategy, you may ask yourself the following questions:
What is the product's use case?
What advantages do users get in those use cases?
What objectives do you hope to accomplish for the product across its entire life cycle?
Your product strategy doesn't need to be a 1000-page tome. It just needs to clearly identify the target market, the client, and the goals to conquer them.
A product strategy typically does not include a product roadmap geared toward your company's business or software growth. But if you're interested in developing one, visit our thorough article on how to build a product roadmap.
Wireframing & design
Building a successful SaaS solution requires a well-designed user interface. Users won't give your application a chance if they don't like what they see at first glance.
Users' perceptions of the overall quality of your SaaS solution are also influenced by UI/UX design. Users will presume it has been extensively tested and is reliable if it has a pleasing appearance. On the other hand, if your SaaS website seems antiquated or poorly designed, users will be less likely to trust it. You should also pay great attention to mobile UX design.
In summary, the success of your product depends on the quality of the SaaS user experience design. A successful design will offer an excellent user experience that promotes ongoing interaction and makes your product stand out from the competition in your sector. With a well-thought design, you get the following benefits: 
Lower costs for acquiring customers
Differentiate yourself from your rivals
Improve customer lifetime value
Boosted scalability and growth
That's why the design process should be given top priority early in the development of your product.
Development
After making all the necessary preparations, including defining the concept, validating the idea, and analyzing the market and possible clients, it's time to start all the development work. SaaS product building requires a thoughtful approach to scalability and security.
Your cloud software needs to meet the demands of an expanding user base. Also, today's consumers demand their data to be safe and protected, and regulations make the use of top-notch security standards mandatory. Learn more in our article about data management in cloud computing.
Maintenance & support
The perfect product cannot be created without the first customer feedback. The owner of the SaaS business had to be ready for improvements and endless testing of the project. Even if the user interface looks perfect and is convenient for customers, they may want new features. That's why the development team works on new features, monitors app performance, and maintains the product.
Marketing
A good product is only one part of success. Software-as-a-Service business owners must constantly attract new users using marketing tools and techniques. These include advertising, content marketing, product trials, search engine optimization (SEO), referral marketing,  and so on. Also, mind that SaaS will not pay off immediately.
Be prepared for your SaaS business model to go through 3 phases:
Startup: preparing a product for launch.
Hypergrowth: customer acceptance of the product, a large influx of users.
Stability: leveling the product in the market with a stable inflow and outflow of customers and stable profits.
All these stages require careful preparation and quick response. The SaaS business model seems like an easy way to make money. However, this solution has its advantages and disadvantages, which you need to know about before starting SaaS development.
Benefits of the SaaS business model
The pros and cons of the SaaS model can be viewed from business and customer service. Let's talk about the benefits of the SaaS model in terms of profitability.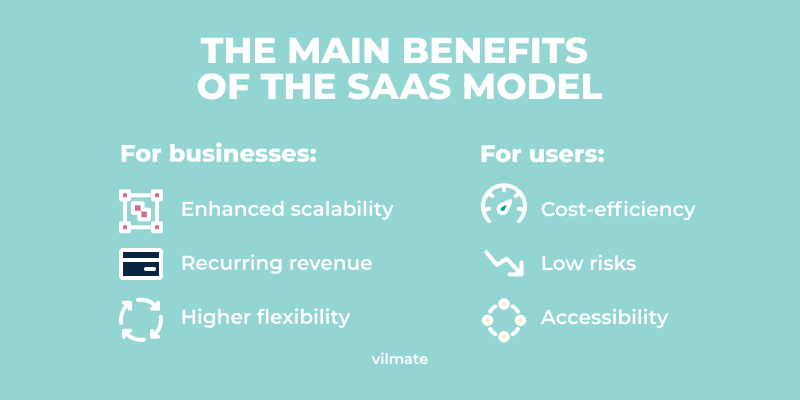 Scalability
Scaling a SaaS business is considered one of the most important advantages. SaaS resources are stored in the cloud. This approach allows us to provide services to clients from all over the world. Information about customer flows is updated online.
If your platform can give growth to the client's company, then his profits can positively affect yours. In addition, a repeat customer creates lifetime value.
Recurring revenue
Recurring revenue is a kind of salary that customers pay to a business. Traditional businesses rely on one-time payments, but the SaaS company requires customers to pay monthly. You can be sure that a certain amount will be credited to your account this month. Revenue will become predictable once the platform is stable.
You just need to keep track of customer acquisition and customer churn. Thus, it will be possible to predict the flow of funds. The SaaS business model eliminates the "good" and "bad" months and allows you to make investment decisions with guaranteed success.
Flexibility
The SaaS business model allows you to listen to user feedback and respond to their needs instantly. Important updates don't become a problem for developers. New features can become a source of new revenue. Updating a SaaS product usually happens without downtime, providing continuous customer service. A quick response to user feedback will make the product perfect.
Moreover, the SaaS business model allows you to cover multiple market segments. Some customers will want to purchase a subscription with basic features. Others will need the enhanced version. In this model, you can set different pricing for each customer category, thus attracting a broader range of users. Your client can be a large-scale business, a niche market, or a private entrepreneur. There are no restrictions!
A small business can grow into a big company with the help of your product. Then it will need an extended version, which will bring additional revenue. That's how customer success in SaaS companies can affect business income.
Of course, the SaaS business model is very good for business. In 2021, the SaaS market capitalization was $272.49 billion, according to BusinessWire. But what benefits can the client get?
Cost-efficiency
The SaaS is sold by subscription. Own software isn't cheap. With a SaaS product, the customer doesn't have to pay a large price right away. It's much more pleasant to give a small price once a month, which will have little effect on the overall budget.
The user won't spend big money on a product license. Moreover, they'll be able to adjust the number of features and pay only for those that they need. And since SaaS products are cloud-based, the customer will have lower infrastructure costs.
Low risks
If a product that offers a SaaS solution turns out to be useless for a particular customer, they can easily abandon it. The absence of risks will attract more and more users because if they fail, they'll lose a small amount of money.
In case the SaaS platform is based on a pay-as-you-go model, the client will only pay for the time of use. Such a system is beneficial for users who rarely use the product, so they won't be afraid to overpay.
Accessibility
The SaaS apps are accessible at any time and from any location in the world. Additionally, the SaaS service provider maintains the software centrally on a server, allowing users to adjust the usage plan on-the-fly to suit their needs. This kind of configuration is ideal for remote work scenarios when numerous individuals from various locations collaborate on the same project and use the same centralized resource.
Disadvantages of the SaaS business model
Of course, when looking at the pros and cons of the SaaS business model, you can't just focus on the benefits. Let's talk about the disadvantages.

High competition
Many companies have already appreciated the benefits of the SaaS business model and adopted it. Now the SaaS industry is highly competitive, and finding uncovered user needs has become more difficult.
Therefore, you need the original startup or the best metric for SaaS business. Good prices and advanced functionality can take away customers from a competitor, although this isn't easy – users are often conservative.
Customer retention
This shortcoming stems from the previous one. Having competitors requires a good churn reduction strategy. It's necessary to apply marketing techniques, monitor competitors' prices, and respond sensitively to customer reviews.
Dependence on the budget
SaaS company revenues are highly dependent on customer sentiment. You need a regular periodic income, which means the product must be very good. Only a good SaaS product can provide the kind of revenue that your business can support a team and be profitable.
Don't forget that buying an expensive subscription is usually a balanced decision. It isn't always easy for the client. Therefore, many SaaS companies resort to constant visual demonstrations and free trial subscriptions. They help push the user to buy.
Strong security requirements
Since the SaaS product uses cloud storage, you need to keep a good eye on security. Leakage of customer data can lead to reputational losses, lawsuits, and significant loss of money.
How to understand if the SaaS model is right for you?
If you're impressed by the benefits of the SaaS business model and aren't intimidated by its downsides, it's time to take the approach to your startup. If you have 4 special qualities, then the SaaS industry is definitely for you.

Strong development team
A SaaS product is an advanced platform that requires serious technical training. You need talented developers, good marketers, and experienced management.
The ability to wait
Some entrepreneurs expect quick and big profits. SaaS offers other income options. Choose it only if you are ready for a long sales funnel.
Financing strategy
SaaS businesses are great at scaling. Of course, it doesn't come free for business. A strong project needs stable financial support. Therefore, you need to be ready to inject funds at the initial stage.
Deep analytics
The SaaS business model requires a constant calculation of customer churn, the search for the reasons for the influx of customers, and the development of a customer retention method. Many businesses require serious analytics, but the SaaS industry is literally built on data calculation.
If these 4 points make you enthusiastic rather than annoyed, then the SaaS business model is the perfect solution for a new startup.
SaaS sales approach
SaaS revenue models are shaped by whether you sell a B2C or B2B product. To understand how to set prices, you need to know the key SaaS metrics.
These metrics are important for any business, but in the case of a SaaS venture, some of them are especially important.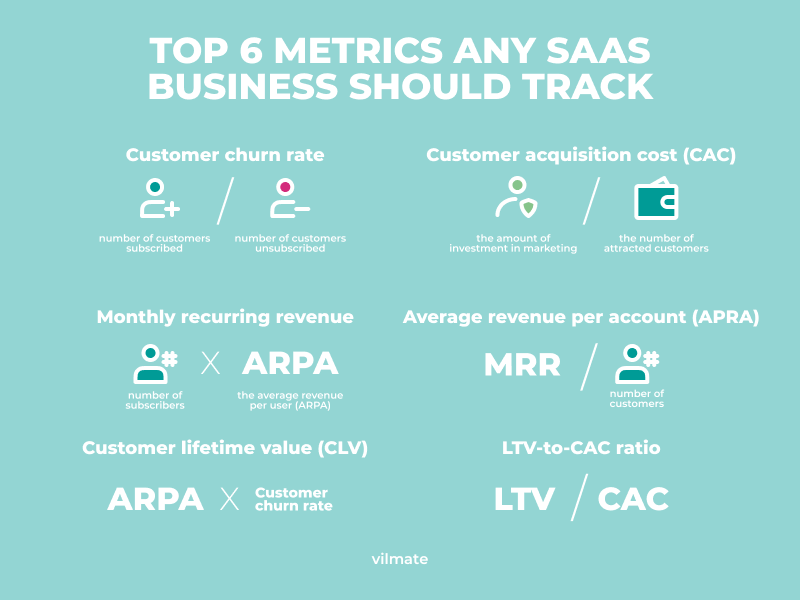 Customer churn is a vital SaaS metric that shows how many customers unsubscribed in a given period. Zero churns are impossible to achieve. But churn rate can show how satisfied users are with a product. An acceptable level for the outflow of SaaS customers is 5-7%.
The churn rate is calculated using a simple formula: the number of customers unsubscribed / number of customers subscribed * 100.
Customer acquisition cost (CAC). This is a more complex SaaS metric that shows how much money you're spending to acquire one new user. By the cost of customer acquisition, you can understand how successful the SaaS business model is.
There is also a formula for calculating CAC: the amount of investment in marketing / the number of attracted customers.
Monthly recurring revenue (MRR) & annual recurring revenue (ARR). ‍Monthly recurring revenue measures the amount of money your product generates overall in a single month. Annual recurring revenue works the same. Thanks to these indicators, you can calculate further investments needed.
To calculate future monthly SaaS revenue, multiply the number of subscribers by the average revenue per user (ARPA).
Average revenue per account (APRA). If your SaaS product has tiered subscriptions, it's useful to know how much you're getting from customers on average. A low figure may indicate that a more expensive subscription isn't in demand.
To calculate the monthly average income per account, you need to use the following formula: MRR / number of customers.
Customer lifetime value (CLV). This is the revenue that a business receives from a single customer during the entire subscription period. This indicator depends on how long users are willing to pay for the services of your SaaS product.
To calculate customer lifetime value, you need to use a more complex formula: ARPA x Customer churn rate.
LTV-to-CAC ratio. Your marketing initiatives' ability to sustain growth can be determined by comparing your acquisition costs (CAC) and lifetime value (LTV). 3:1 is a suitable LTV to CAC ratio. If a customer generates $1,000 in revenue over time, you should only invest a little more than $300 in acquiring them.
As the name suggests, this ratio formula looks the following way: LTV / CAC.
So, now you know the most important SaaS metrics. They will directly depend on the chosen SaaS pricing model and also influence it. 
Let's take a look at the SaaS startup financial models used around the world.

Fixed pricing is the simplest model where a SaaS product is delivered to all customers at the same price. Typically, this model is set with monthly or annual subscriptions. This SaaS pricing model must be used with caution. A small business and a large company aren't equal in their capabilities. That's why this approach can alienate a large number of customers. Usually, for a fixed-price model, marketers use free trial subscriptions to attract clients.
This SaaS pricing strategy will allow customers to pay for the feature set they need. Typically, SaaS companies use the basic, medium, and Pro tiers. This pricing model allows you to serve all categories of businesses and customers with any budget.
In this SaaS financial model, all customers receive the same set of services. But at the same time, the number of users who can use the product is limited. For example, if the company has only 5 employees, then the owner will pay a small price for their access. As the company grows, the payment for the services of your SaaS product will grow along with the number of employees.
Although this is the most popular Software-as-a-Service pricing model, it requires a lot of work from the marketing department. For example, the Slack platform communicates directly with corporate departments to provide the correct price.
Final words
So, we've discussed the SaaS business model and explained its peculiarities in our article. The popularity of this solution is both a plus and a minus. Of course, there is a lot of competition waiting for you. But it exists only because many businesses have already appreciated the benefits of the SaaS business model.
The Software-as-a-Service solution allows you to receive a stable income, flexibly adapting to the wishes of customers. There are many variations of SaaS platforms, so it's easy to choose the right model for your business.
SaaS indicators in the market are only growing, so now is the time to occupy this niche. Of course, building a SaaS platform isn't easy at the initial stages. You need a strong team of developers and marketers who are ready to work for the perfect result. Experts from the Vilmate team can help you with this.
Subscribe now
for monthly digest