Thinking out, developing, and maintaining an IT project is something that requires quite a bit of effort. Even small-scale endeavors may involve teams with a variety of roles that demand synchronization, load balance, and basically everything that we call proper management.
The approach of agile distributed software development management allows working with professionals around the globe without having to bind to a specific location, time zone, or the presence of real-world offices.
In this text, let's see what managing remote engineering teams adds to a project, the advantages of remote teams, and which challenges a distributed development team may face.
Teams: Traditional vs. Remote vs. Distributed
Naturally, when at least two persons are working in collaboration with each other to achieve a particular goal set, they can already be called a team. Otherwise, you're a one-man army :)
Regardless of the structure chosen from the picture below, it all comes down to mutual rapport and consistent communication threads, both business and personal. Managing remote staff may seem more complex, but the advantages of remote teams are definitely worth it.

A traditional team is usually considered as a group of people regularly visiting some physical space, communicating face-to-face, and managing workflows on site.
In remote development teams, the collaboration and willingness to achieve business goals remain. But the key difference is that remote development team members may never meet each other personally, and there may be no real-world office at all.
Remote employees are not restricted in where to perform their tasks from. Your home, a co-working space, or a local cafe will do fine as long as you don't neglect your direct responsibilities.
A distributed development team largely falls under the definition of a remote software development team when talking about doing a job from a distance. Yet, distributed teams include some peculiar differences. Let's look at them more closely to clear up the topic.
Irrespective of the number of locations and employees, a distributed development team is assembled as an indivisible unity for operating in a single project. The bulk of distributed teams uses a certain communication tool agreed upon beforehand in order not to feel isolated and avoid fracturing the unity while managing remote staff.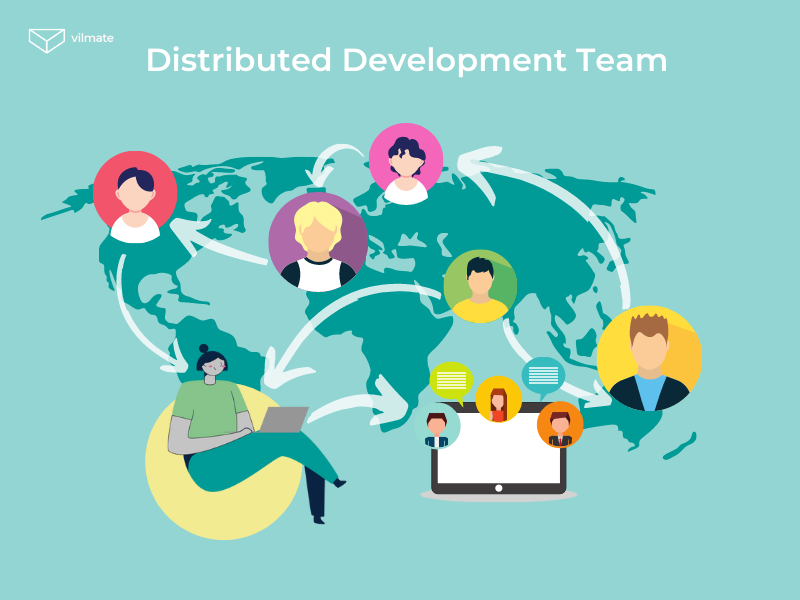 Said otherwise, when an employer has the core of his software development team working nine-to-five in the office with a couple of freelancers from other planets added to meetings once in a while, those freelancers can't be called a part of the distributed development team. They're just remote workers hanging out somewhere on the periphery.
Let's say our freelance extraterrestrials constitute more than 50% of the team, with the management still meeting face-to-face, giving tasks to them. Maybe such a team can be called partially distributed. It depends.
Anyways, the purpose of assembling distributed teams is to put all the members in a position where even aliens aren't feeling alienated. That's the core principle of distributed agile development.
Benefits of hiring a distributed team
Modern practices of distributed agile development serve as a reflection of globalization and put international unity with cooperation on a whole new level.

Better accessibility
While being not restricted by a physical location, distributed teams offer a greater reach to skilled professionals around the world. No matter which country or continent a member's location is in, one can still fully contribute to the project.
Contemporary means of communication and reasonable time management negate the difference in time zones without affecting the performance of the tasks assigned. So don't hesitate if you want to hire a distributed development team.
Reduced expenses
The internet has made the world smaller, but it's still big. One of the advantages of distributed agile development is that you can easily hire a distributed development team from the countries with a lower cost of living, consequently paying lower service rates. Additionally, bills for rent, office supplies, and utilities can be forgotten as the worst nightmare.
Boosted creativity & initiative
The diversity of cultures, worldviews, languages, and other tiny details, beyond question, leads to a more lively environment. It's a part of human nature to thrive for variety and manifoldness.
Moreover, according to the experiment highlighted in ResearchGate, remote team productivity is likely to increase up to 13%. So the emotional and perceptual aspects of working in a remote software development team add a significant bonus, to say the least.
Increased retention and employee satisfaction
The feeling of being a part of something bigger than a cube resident of your local office across the road is often underestimated. The possibility of contributing to an international project adds a significant emotional uplift and increases an employee's satisfaction level.
Therefore, the willingness to stay with the team, so that in the company, also rises. It enables stronger personal bonds, a more relaxed and open atmosphere, and confidence regarding future working activities.
Never-ending workflow
Strictly regulated working hours are gradually becoming a thing of the past. At least in the IT sector. Potential clients and employers mostly require the job to be done to a high standard, not caring much about one's working routine.
So the variety of time zones and personal biorhythms may actually turn out to be a winning card in terms of setting 24/7 maintenance and the presence of a certain number of mates on the project.
Challenges to know with distributed development
No matter how many benefits something holds, there's always a blot on the landscape. Together with the advantages of remote teams, certain challenges are inevitable. But any roadblock has a detour.

Poor communication
Needless to say, managing a remote development team requires solid and sustainable communication that goes beyond a stable internet connection and Google Meets. Full synchronization alongside a clear and convenient schedule for each member sets the basis of remote team productivity.
Poor personal communication and constant misunderstandings may become a bottleneck even for highly skilled remote development teams, affecting the final outcome and deadlines.
For sure, the greater part of the responsibility lies on distributed team management. When one ensures that the members of your remote engineering teams interpret their roles correctly, no one feels marginalized or treated unfairly, and everything will go fine.
Vilmate is fully aware that communication sets the ground for any kind of productive collaboration. We don't just talk theory about managing a remote development team but convert best practices into a fact of our daily routine.
Decreased quality of work
I'd say that it's a common myth that freelancers and outsourced workers, which usually constitute a high percentage of remote development teams, provide less quality than fully employed office workers. Though unfortunate experiences with distributed software development may occur once in a while, the general picture shouldn't be judged by them.
First and utmost, when assembling a distributed development team, one has to be sure that all the mates in your remote development teams possess the needed personal soft skills as well as technical know-how. As mentioned before, managing remote teams is about being attentive and responsive.
Each case requires individual attention, and properly adjusted workflow protocols will provide you with the highest quality outcome and the ability to apply the benefits of remote teams to the full. So don't hesitate to hire a distributed development team right away.
The Vilmate case of distributed agile development
In order to substantiate the statements, it's a good idea to look into a real-life example of agile team building.
As a good illustration of distributed development best practices, let's take a glance at one of the projects that Vilmate is participating in.
GetCompliant Case

Initially, Vilmate started the journey with GetCompliant by providing 2 software engineers. Basically, they acted as a couple of remote peripheral employees mentioned above.
But as the project went on, being fully satisfied with the performance, the personnel were requested to expand. It now consists of 2 web developers, 3 mobile developers, 1 QA engineer, and 1 project manager, operating from different corners of Ukraine and other European countries.
Such a line-up and the variety of physical locations allow us to claim that this team is distributed yet fully operational. Starting from development and finishing with delivery and management, our remote team productivity is something we can be proud of.
The evidence of that is the added features and the technological challenges that Vilmate managed to overcome.
Another solid proof is the feedback from the CEO of GetCompliant:
A great technical team and a great partner we've been lucky to come across. We have been working together for many years, and I'm looking forward to keeping on working with Vilmate... They are "our team" – not "Vilmate's team" and I like that a lot!
To finalize
Working in a remote team and managing remote staff are now becoming equally traditional to visiting offices. The recent events associated with the pandemic and the evolution of communication channels have boosted the practices of distributed software development more so today than ever.
Vilmate is always glad to participate in your project to any scale needed. Look through our Services section to find the right professional mates for collaboration. Stay tuned with us! And don't be shy to contact :)
Subscribe now
for monthly digest