Marketing and applications in the 21st century have become practically inseparable concepts. Advertising for businesses becomes much more effective when technology comes into it. Applications can't exist without advertising since they aim to attract maximum users.
We often carefully follow US and European IT trends. But advanced specialists realize that fresh ideas may also come from the East. A significant trend successfully developing in the East but not well known in the West is super applications.
In this article, we'll find out what the market is missing at the moment, what super applications are, and how they may give a second wind to digital business organizations.
Marketing perspectives and investments
Marketing is an essential part of any business. That's why marketing technology, or MarTech, has become much more popular in recent years. MarTech is a series of software that can solve marketing problems.
Statistics show that in 2021, the global MarTech market value was $344.8 billion. ​​In the same period companies have increased their spending on marketing technology by almost 150%.
The marketing niche is developing towards technologies, moving away from outdated approaches:
Companies are focused on customer retention.

According to surveys, 75% of Internet users make online purchases at least once a month. And in total, 2 billion users worldwide are currently online buyers.

Just think about it: it's about 25% of the total population on our planet. However, the current trend shows that attracting users is costly and regular customers require less resources. The acquisition is vital in any case, given your priority is customer retention, the value of each attracted user increases.

Less expenses on ads.

This point follows from the previous one. By cutting advertising costs, companies are injecting investments based on user data.

Growing demand for modern and innovative solutions.

Every year the competition between companies intensifies progressively. Small startups implement innovative solutions to become world leaders. Whereas larger companies seek for modern technologies to keep their popularity. So the search for MarTech drives the development of new technologies.
What can we learn from these facts? Apps have a strong influence on marketing and give valuable benefits:
Gain user trust
Retain customers
Base development strategies on customer personal data
Reduce advertising costs
Effectively deal with competitors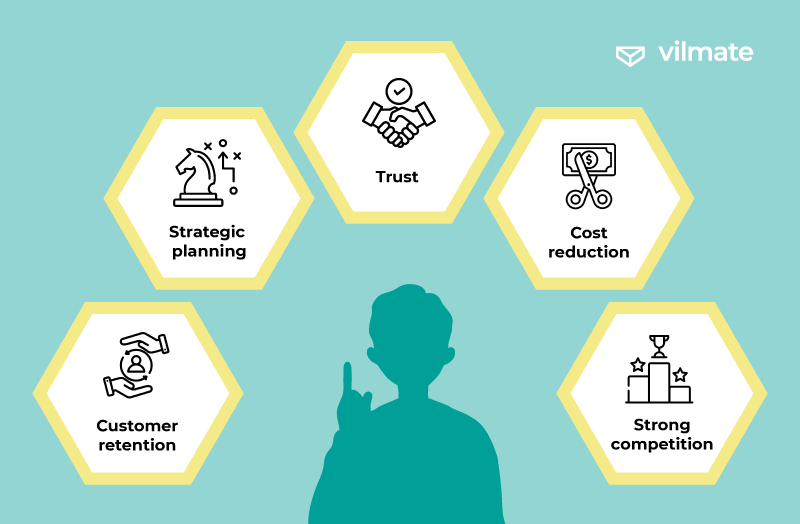 And before diving into the study of super apps, let's talk about apps in general.
What is an app? Types, components, musthaves
Everyone in the modern world knows what an application is. The term embraces software you can install on smartphones, tablets, computers, smartwatches, and other electronic devices.
Most applications are developed for smartphones. Statistics assure that 49.2% of all e-commerce sales come from mobile devices.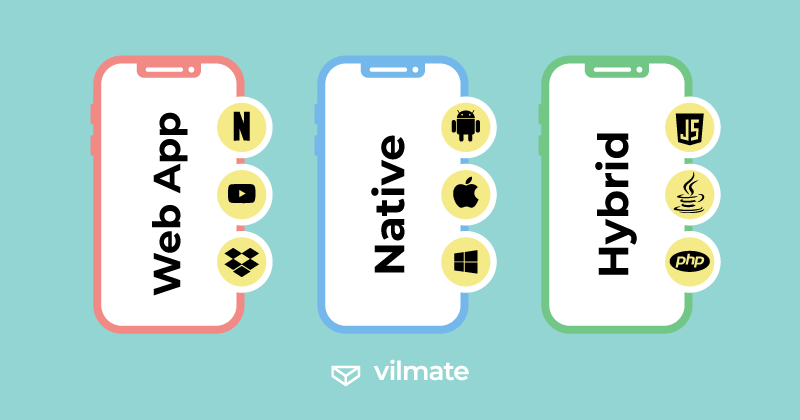 The most common types of applications are as follows:
Web applications. A web app requires internet access. Such software doesn't require much space in the device memory since the company servers store the databases. Netflix, Dropbox, and Youtube are common examples of web apps.
Native applications. Apple plays a significant role in developing native applications and providing alternative software. Native applications are designed strictly for a specific platform - iOS or Android. For example, Apple's Calculator app is only for Apple devices. Except for the iPad, of course. Steve Jobs banned iPad owners from counting.
Hybrid applications. Hybrid apps combine native and web applications that provide users with several features. The problem with such applications is relatively low performance. But users appreciate that they are able to perform several tasks simultaneously.
Anyhow, there are a few points that all types of applications have in common. These are their components. We'll divide them according to the MoSCoW principle into 'Must have', 'Should have', and 'Could have'.
Any application must have:
The target audience. A properly configured target group search will allow a startup not to fail. Of course, an application can't exist without users, and finding interested customers for your software is the primary task.
Security. Users must be confident that their sensitive information like payment data won't end up in the wrong hands. Safety is also necessary for the application itself to avoid hacker attacks.
High-quality UI/UX design. Without a proper design, an application won't strive as the user needs to interact with something pleasing. But there is a difference between regular design and proper design. UI design is the 'face' of your application. It should be up-to-date, catchy, aimed at the target audience, and highly interactive. UX design will allow users to understand how to use the application and where to click to access the desired feature. High-quality UX is the basis of user retention, especially in a competitive app market.
Registration. The user has to register first. Registering is indispensable for holding a place in the global market, retaining users, and developing marketing strategies.
'Should have' options:
Information panel. A single control panel allows users to use all functions intuitively. Without the information panel, some users may feel uncomfortable, and some simply won't put effort on understanding what to do without a guide.
Search. The search function makes it much easier for users to work with the application. Good search is challenging to implement, but without it, native use is often out of the question.
Integrated payments. An excellent way to make money with the software is payment integration. If the business provides any commercial services or products, the payment built into the application is a must.
Adaptive design. Your application should fit different screen sizes to be eye-pleasing and user-friendly. Better yet, be multi-platform. All users, especially long-suffering iPad owners, will appreciate good design adaptability.
Now consider what components the application could have to be in demand:
Location management. When an application refers to users according to their location, this will positively affect the conversion. You can send personalized notifications to users. If the application goes global, location management from the 'Could have' category falls into the 'Must have' category.
Feedback. Users love to express their opinion. And when their opinion is taken into account, they feel appreciation. Feedback is one of the main ways to retain customers. The more positive feedback is, the higher your app will rise in stores. And positive user reviews ensure an influx of new customers.
Push notifications. It's quite an important option if you want the application not to be forgotten. However, it would be best to be careful with them: frequent notifications annoy 52.68% of users.
Depending on performance and budget, most apps only serve one specific and narrow-profile function. You can order a taxi in the Uber app or you can edit a document via Microsoft Word app.
There are applications focused on different areas, including business development and e-commerce. But super applications can become a new round of development very soon. It's time to talk about them in more detail.
What is a super app and why does it differ from a regular app?
'One App to rule them all' – that's how you can describe the concept of a super app. It's one application that allows you to access various services.
Mike Lazaridis, the founder of Research in Motion, was the first one to think up the idea. His company presented the world's first smartphone, the BlackBerry 850, in 1999. In 2010, Mike introduced the first super app concept in his speech. However, Mike's offer was only relevant to BlackBerry smartphones. And we're interested in a modern interpretation.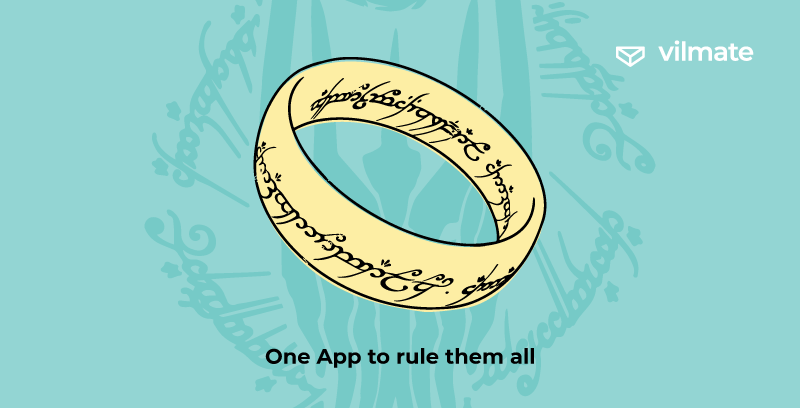 Where lies the border between an ordinary app and a super app?
We've already discovered that a super application gives access to several services, while regular applications often aim at one primary function.
But don't confuse super apps with mobile app ecosystems:
An ecosystem is a set of services that offer a solution to specific customer tasks.
A super app is a super ecosystem, a complex application that consists of microservices based on a single platform. A super application interacts with many suppliers and consumers and affects different aspects of the user's life.
SuperApps offer a variety of services that simple hybrid apps can't provide:
Total interaction. In a super application, there is an interaction of services, and several channels of customer service, where users can move seamlessly. All services should run at the same speed, and the transition between them is invisible.
Use of standard components. The components we discussed above should be the same for all services. From design to security, the user must perceive all services as functions of one application.
Data exchange. Super apps allow the user to register and enter their details only once. All services will use this information. Session data, shopping cart purchases from different services work in tandem.
For example, in a super app, a user can access bank card data, make an appointment with a doctor, call a taxi, and buy goods. The set of services is restricted only by your imagination.
The concept of super apps is only emerging in the West, while in the East and African regions, people use super apps on a daily basis. As a result, every third person in the world uses a super application one way or another.
The reason for the emergence of super apps is simple – not everyone can afford a smartphone with a high-volume memory. Super apps easily level out this inconvenience.You need to install only one application on your smartphone to use all the services.
However, in Europe and the USA, this problem is much less presented. Though the interest in super apps is still growing. We'll talk about this further on.
Why are businesses likely to prefer super apps in the future?
According to surveys, US, Germany, Australia, and UK residents show interest in super apps. At least 72% of respondents were positive regarding the topic.
The main reason is safety. If the security layer of the super application leaves no doubt, users won't have to worry about data theft when using the services. For example, the client will be confident in the seller's honesty while ​​shopping and can enter payment data without fear.
Based on various studies, we can make the following forecasts:
Super apps in Africa and the Middle East go on to gain popularity. This conclusion was reached at the World Economic Forum, noting that 85% of smartphones entering Africa cannot handle many applications. The prospects for development in the markets are endless.
Banking systems are very dependent on super apps. The fact is that financial services are a big part of the majority of super platforms. Digital wallets allow users to opt out of credit cards, cash, and banking apps. Therefore, many banks are trying to build strategic relationships with Super apps and integrate their services in order not to lose customers.
Small and medium enterprises are interested in super applications. As you may know, they're the basis of most economies. Small businesses don't have to spend money on advertising and MarTech. Super app owners, in turn, are interested in integrating as many small and medium enterprises as possible. So they offer users a wide range of services and lose fewer users. Some super apps offer services to companies: they help organize the business by providing accounting, reporting tools, etc. A good example is Enstack.
E-commerce and fintech are already making moves towards super apps. Walmart, for example, has added a home delivery option to its stock app. And this is just the beginning. Experts have noticed that Walmart is partnering with several fintech companies, launched an integration with Shopify, and is rolling out Walmart Health, a potential healthcare service. All these services will likely come together in the first successful super app in the US market.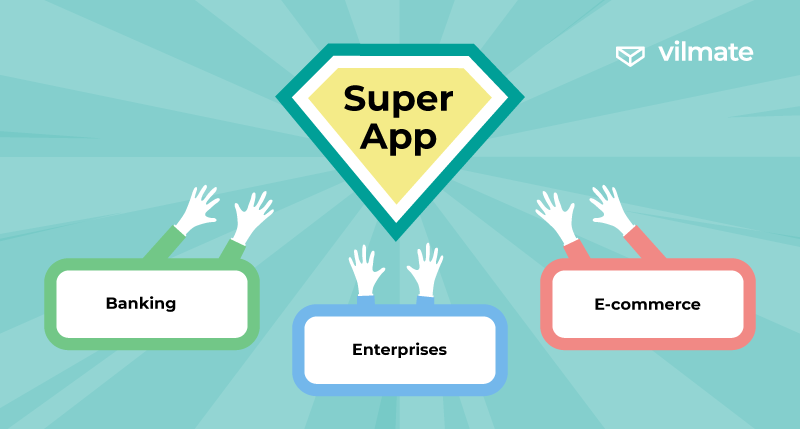 Now let's consider the opinion of skeptics who believe that super apps won't become 'unicorns' of the American and European markets. The main idea is super-apps' inability to compete with the many successful applications in the market. Uber, Twitter, and iMessage are doing a great job and are unlikely to give up their place.
The second concern is the high probability of dependence on the government.
And the third factor is that super apps are designed purely for the mobile experience. However, as we've already discovered, this isn't counted as a disadvantage.
Finally, let's talk about the existing successful Chinese WeChat super-app and consider its principle of operation.
What WeChat is, and how it works
WeChat is a Chinese super app that provides users with the functions of Google, Amazon, Uber, Messenger, Facebook, and Yelp.
However, having appeared in 2011, WeChat was a simple messenger, which is reflected in its name. As WeChat grew, it added Moments, a social network that mirrored the features of Facebook.
Along with the growth of the audience, developers have added games, videos, and eventually, mobile payments to the future super app. The introduction of payment cards allowed WeChat to connect with the local Uber taxi Didi Chuxing.
In the next phase, WeChat became a full-fledged super app. The transformation was complete after the introduction of the developer platform. Developers were allowed to embed service accounts in WeChat, and they could easily sync with the infrastructure.
Despite the limitations, most brands and businesses were immediately interested in the super app. WeChat has opened up a sea of opportunities for business expansion. Today, everyone can open their online store on the platform.
In 2016, the Chinese users spent 35% of their time on WeChat. The developers have opened the widget service for installation. After that McDonald's and other global brands joined the ecosystem.
And in 2017, the Chinese began to ditch cash in favor of mobile payments via WeChat. And at the moment, 44,5% of users no longer carry cash with them, and 92% regularly use WeChat for mobile payments.
We can't fully predict which app can turn into a super app. It may be different for each country. However, experts predict that these may be bank applications for markets with developed digital banking. And in the US, we expect further development of Walmart.
To finalyze
Super applications are promising. And the first company to enter this market is most likely to leave its competitors far behind. However, don't forget that developing such an infrastructure is a rather complex and costly process. Therefore, if you aren't ready to launch a super app from scratch, it's a good idea to create a regular application with high scalability first.
If you spot the need to launch an app or maintain your ongoing projects, look through our Services and Technologies sections to see if our teams may be of service. Also, check our Portfolio for interesting cases and startups that Vilmate participated in.
Stay tuned with Vilmate! And have a SUPER nice day :)
Subscribe now
for monthly digest