There is no doubt that today, any business strives to work online. Indeed, before making any purchase, most shoppers conduct online research. And shopping online is convenient and fast. Therefore, the seller needs to provide a safe platform for customers.
However, along with the proliferation of online sales, many scammers who find ways to steal money from credit cards have appeared. To prevent payment fraud, users and owners of online stores should take strong precautionary measures.
Unfortunately, the bulk of credit card data falls into the hands of scammers due to data leaks. But how can you prevent that? One of the best ways to counter that is payment tokenization.
In this article, we'll explain what tokenization in payment is, discuss the benefits of tokenization, and learn about the difference between encryption and tokenization.
What is payment tokenization and how does it work?
Tokenization is the process of securing payment data. A payment token is a specially generated secret code that replaces useful information for scammers with a set of random numbers. You can see the payment tokenization explained on the image below.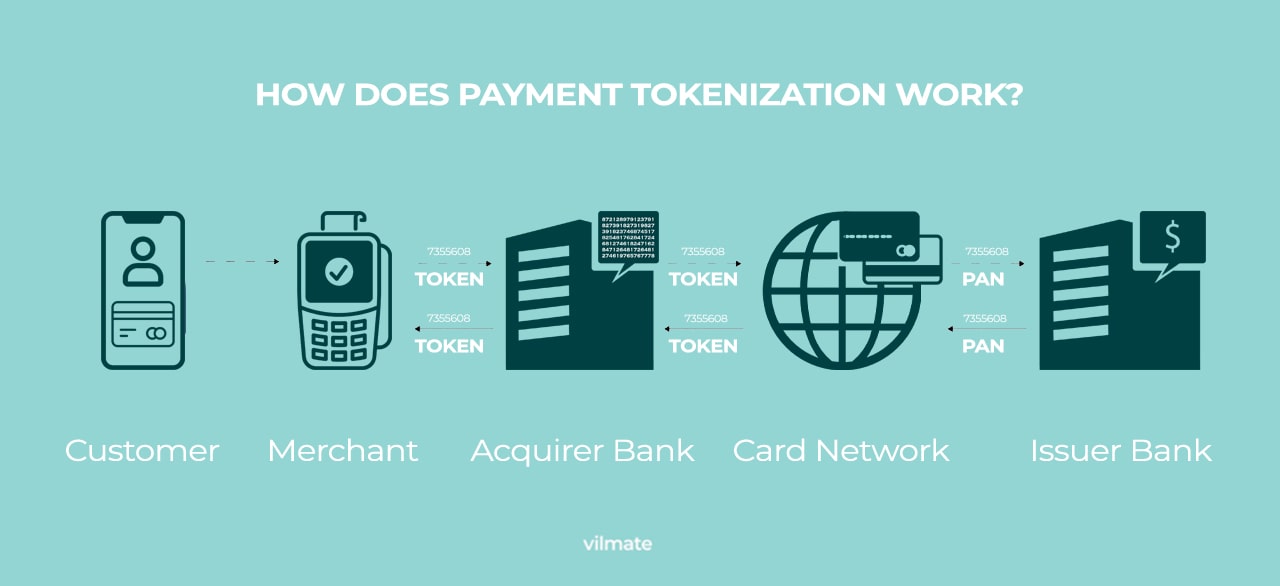 Valid bank account numbers remain in the token vault. Only tokens are transferred to the bank via the Internet from the online store. Therefore, even if data is leaked, the fraudster can't get the card data and copy it. At most, they can see a set of numbers of tokens that cannot be used for a crime. Only the owner of the special key can decrypt the token.
In online payment processing, the token works on the same principle as the chip on a regular bank card. But the chip protects offline purchases, and the token takes care of online transactions in different payment methods for businesses.
Payment tokenization starts working as soon as the client enters their card details. All information about the client is made out in a token. If a person is registered on the site, this payment token will be linked to their account. And if not, a new one will be generated each time.
Now that we know what tokenization is, it's time to learn about its practical application.
Why does every business need payment tokenization?
According to Cision PR Newswire, the tokenization market is growing every year by an average of 13%. By 2028, its capitalization will be $2,709.9 million. But why is tokenization becoming more and more popular?
A safe shopping environment is the real responsibility of any business. Large leaks of user data that lead to the robbery of buyers become a large-scale scandal. This situation can permanently damage the reputation of the business and greatly reduce sales both online and offline. A company that has lost customer data may even have problems with the law.
Tokenization is suitable for any enterprise that builds its business model on shopping and online marketplaces. Payment tokenization also makes the purchase itself convenient – the owner can set up one-click online payments on the site.
A one-click payment implies that the user leaves their card details in the site's payment system only once. The next time this data is pulled up automatically. It's very important for impulsive buying.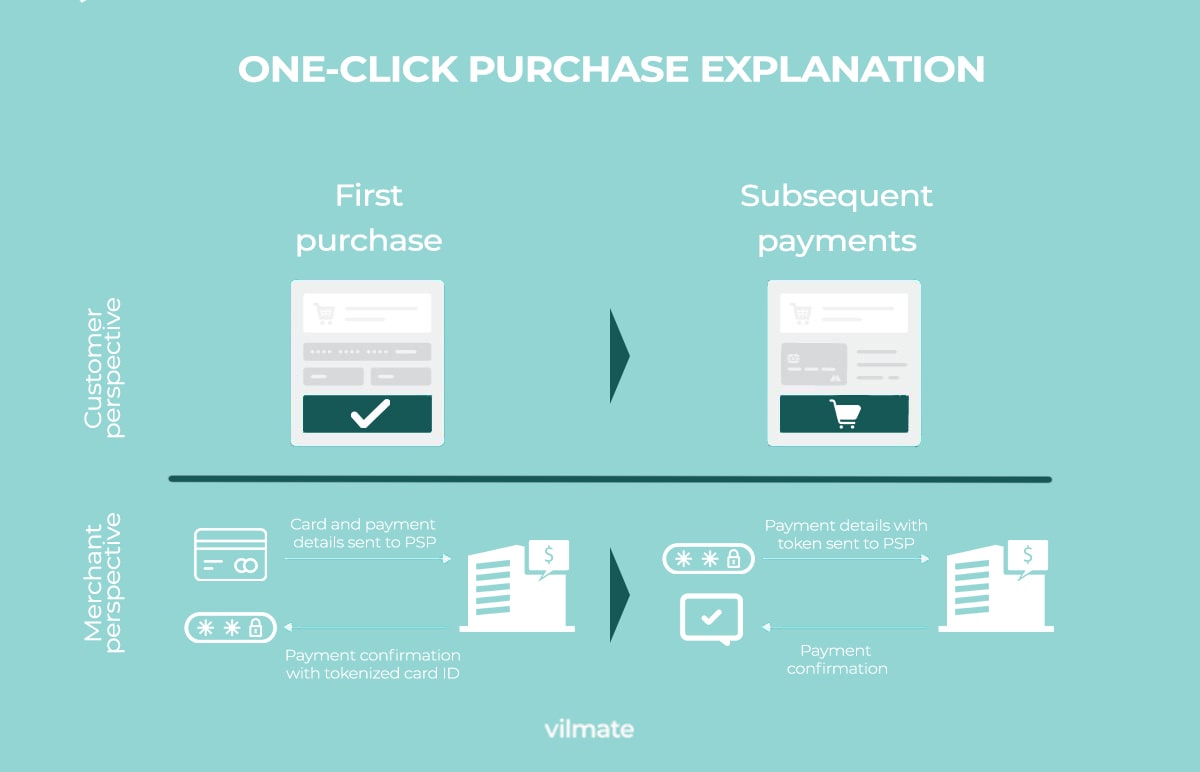 Research shows that impulsive purchases make up 40 to 80% of all online transactions. Impulsive purchases happen unintentionally, instantly, being very dependent on human emotions. Therefore, a one-click payment method and a beautiful product presentation on the site are the main ways to ensure an impulsive purchase.
Thus, the 5 main benefits of payment tokenization are as follows:
Improved internal security
Smoother and denser flow of buyers
Prevention of revenue loss from penalties
Establishment of trusting relationships with clients
Increased profits through enhanced customer experience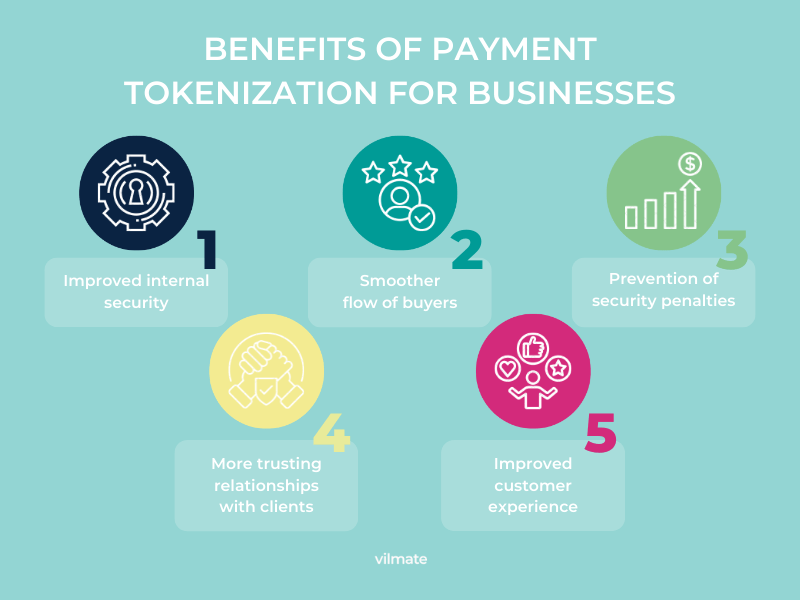 Customers want to keep their data safe from fraudsters but don't want to go through complicated registration and data entry processes. Therefore, it's more likely that the client will choose a site for a new purchase, where their information is already stored, and there is no need to enter data again. Integrated payment gateway provides the company with regular customers who will not go to a competitor.
Let's take a look at popular companies that have already discovered the benefits of tokenization.
How tokenization in payments works in popular services?
Today, payment data tokenization is used everywhere, and the most striking example is NFC wallets such as Android Pay and Apple Pay. Also, e-commerce sites and companies that store a "card on file" for subscription invoices use credit card tokenization.
In recent years, Apple has taken a course on maximum data security. At each new product presentation, the company devotes at least 10 minutes to privacy issues. Also, the Apple website says that Apple Wallet is protected through payment tokenization.
When loading a card into an iPhone, the user doesn't think about its security. The company has done everything to protect customers. Apple will send the card data to the bank that issued it and receive tokens back. These tokens will be stored on your iPhone. And only the bank will own the key to the token.
Google Pay payment tokenization works on the same principle. Only the token is created not by the bank but by Google. Even though mobile devices are quite secure, each site and application should have its tokenization.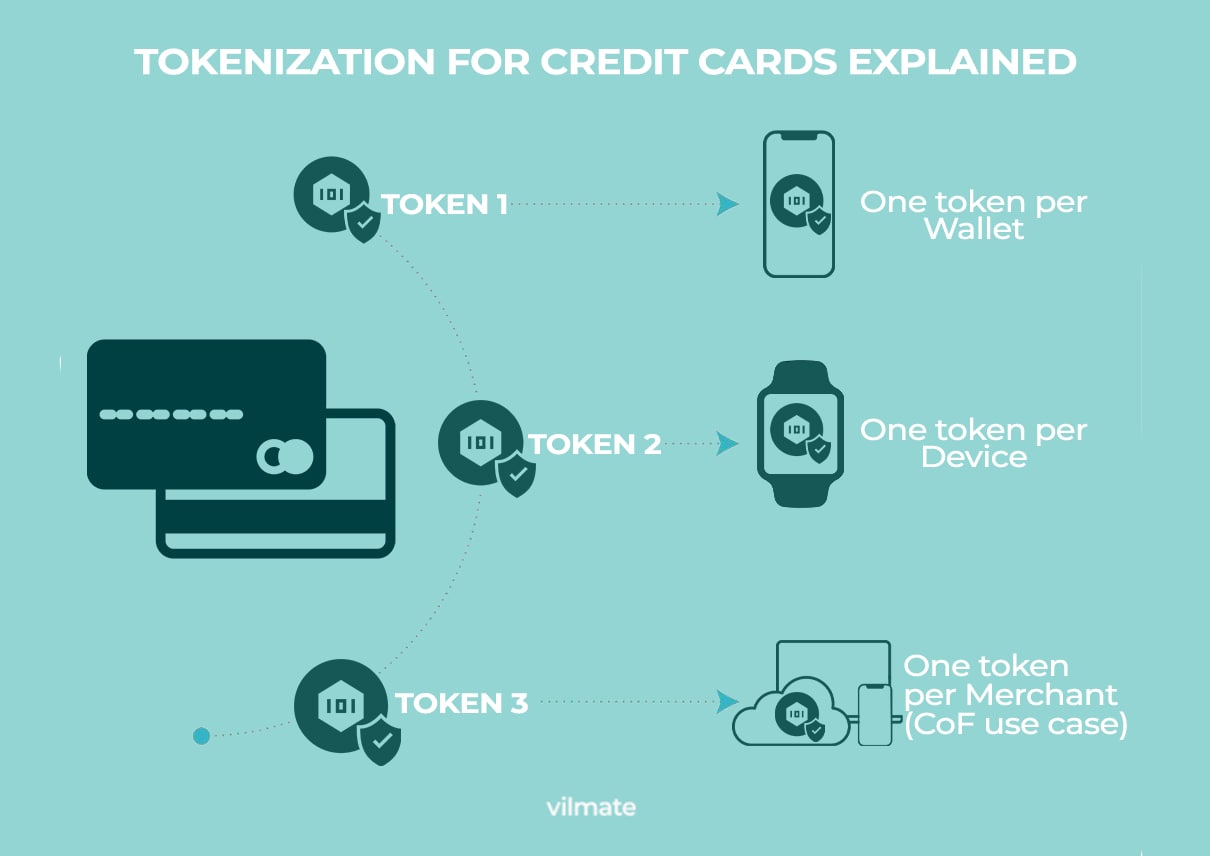 Visa and MasterCard payment credit cards support tokenization. Visa calls it Visa Token Service (VTS), and MasterCard calls it MasterCard Digital Enablement Service (MDES). Visa and MasterCard comply in this way with the Payment Card Industry Data Security Standard (PCI DSS).
Despite the benefits of tokenization, some companies use another method of protection called encryption. What is the difference?
Tokenization vs. Encryption: Which is better?
Encryption appeared before credit card tokenization in payments. For decades, sensitive data has been encrypted with reversible cryptographic keys. Encryption helps transfer information in a vulnerable environment and mask private messages and passwords.
So, tokenization vs. encryption – what to choose? The main reasons why experts choose tokenization are cost-effectiveness and security.
End-to-end encryption protects card data with a special code. When the data goes through the payment gateway and reaches its destination, it's decrypted. The difference between encryption and tokenization is that encryption simply hides the information while tokenization replaces it.
Encryption leaves room for payment fraudsters who can get the encryption key and then access the data. And the digital payment token is mathematically irreversible, and the cardholders' data is never displayed.
Encryption can be very secure, but it's never irreversible. Some data can take years to decipher. Payment fraudsters will have this time if the cards are stored in the system for recurring payments.
Encryption is used by programs such as VPNs, as well as WhatsApp.
Here are a few other advantages of credit card tokenization in payments over encryption:
Payment tokenization implies that fewer devices own card data.
The token is kept by the bank that issued the card.
Flexibility of digital payments processing
The ability to return the money and set up recurring payments.
There is no need to allocate servers for clients' data.
Therefore, encryption is being replaced by tokenization in most sites and applications, especially with integrated payment processing. The advantages of payment tokenization allow not only to secure user data and enhance PCI DSS compliance but also make the maintenance of the security system cheaper and more convenient.
Final words
Connecting payment processing options on your site or application will help expand your business and increase profits significantly. People increasingly use the Internet for shopping and demand to make it comfortable and safe. Moreover, companies are legally required to protect users' credit card information.
We've looked at several ways to protect the payment system of your mobile or web application and reviewed the future of payments industry. Thanks to the benefits of tokenization and enhanced PCI compliance, it's easier to do business and resist scammers. Credit card tokenization is already used by global companies such as Apple, Google, Mastercard, and Visa without fear of damaging their reputation due to data leakage.
If you have doubts regarding the security of your software development projects, don't hesitate to contact us. Seasoned Vilmate developers can help with modern and secure application development for your business.
Subscribe now
for monthly digest