Healthcare has always been one of the top priorities for research and investments. It's no surprise as what can be more important than the quality and expectancy of life of yourself and your close folks.
The business value and resource circulation increase adequately to the demand. According to Yahoo Finance, healthcare services take the 8th position among the top 15 most profitable industries. Interestingly, computer services go next. As a natural alliance, these two industries form the core of healthtech, giving plenty of space for entrepreneurial ventures.
However, healthtech remains a challenging industry based on longtime practices and assumptions. Aiming to transform everything from patient care to organizational efficiencies, the new-generation healthcare startups will need a roadmap explaining the steps to take on the way to success.
In this article, we are going to discuss the general do's & don'ts for entrepreneurs in the ever-changing healthcare industry.
Best practices for a healthcare startup
Many breakthrough clinical discoveries come from state hospitals, health systems, affiliated universities, and other healthcare providers. However, this is not a cast-iron rule.
Medical startup companies with little or no healthcare experience have the value to bring to healthtech companies that already hold remarkable research, clinical, and operational assets. For instance, get familiar with the Forbes article about 3 analytics startups transforming healthcare.
The digital health startups' biggest asset is their mindset. Also known as a startup mentality. It makes them question everything, imagine nearly anything as if there were no constraints, and maintain an increased focus on delivering value to customers.
By bringing this to the table, a medical startup is put in a position where it can make big changes. To facilitate this process, we offer to consider the following best practices for a healthcare startup aimed at making the most of the startup mentality and software development capabilities.

Focus on providing the best patient experience on your app
Today, healthcare startups collectively create a culture catalyzing a new way of thinking. It demands certain major mindset shifts. From one-size-fits-all to personalized experiences, from organizational to customer-centered thinking – a successful medical startup chooses collaboration over competition.
Not necessarily should a healthcare company offer a tech novelty. The innovation that is delivered along with a great digital healthcare customer experience is also generally easier to promote in the healthcare market.
In other words, the fact that the patient is also the consumer must never be left aside. Alongside value-based caring features, everyone expects intuitive navigation, comfy and pleasant design, and personalization options.
One way or another, there is a consumer-driven demand for a better digital experience or using a medical device. As a result, against a backdrop of increasing competition, digital health providers have no other way but to keep searching for more satisfactory health experiences.
Declare a result-oriented mindset
A tech startup management style should revolve around the idea of getting customers the product that would help their physical and mental health. For some healthcare app users, the product is directly connected to their daily health improvement.
Yet, getting a person from where they are to where they want to be with their health is a big deal for healthcare providers. Aiming to create a simple app for solving such a fundamental issue is a noble aspiration, but it also requires quite a lot of effort from healthtech companies.
Also, don't forget to take into account that the undertaking is more likely to turn out successful when fulfilled by a software development team with the following skillset:

1. Goal-setting skills
Business planning and goal-setting is vital, especially for tech startups. Not only is it about the marketing and financial goals of investors, but also about development goals. Always consider the ways of developing your business and your product so that it could eventually deliver value to users in terms of their personal health.
A startup has to always have a plan consisting of far-reaching and immediate, specific and measurable goals. Provided this goal-setting process is efficient enough, it will serve as a basis for further medical startup development.
2. Leadership and motivational skills
Leadership and motivation are all about managing people. Motivating teammates in tech startups can, at one point, become quite challenging.
For instance, being close to the founders and investors and working alongside them motivates and inspires young staff. But as the company grows, it gets more difficult to keep the enthusiasm up.
Motivational programs can make a difference. The sense of employees' autonomy, competency growth, and relatedness have to constitute the core of those programs.
3. Strategic thinking
Although business goal setting is critical for a startup, strategic thinking skills are the ones that will allow for setting and achieving those goals wisely. Therefore, entrepreneurs should continuously work on sharpening and cultivating them.
In essence, strategic thinking makes it possible to arrange current or potentially available resources in order to be successful in the future. Sometimes entrepreneurs can get too excited over something they think is a good business idea. But properly applied strategic thinking may prevent them from even starting the 'not-so-good' business.
Stay on time and on budget
Not to exaggerate, most startup companies will find it challenging. Even though healthcare startups are most often trying to address complex problems with simple solutions, sometimes they can end up delivering large-scale IT projects that would cost far more than planned.
So, a startup must be capable of aligning IT and business value and calculating realistic project timelines from the very beginning. Of course, things can go wrong (or should we say take an unexpected turn) at any moment.
However, the budget and schedule overruns must never threaten the existence of the company. Don't be afraid of outsourcing software development, it may reduce your expenses.
Besides, the longer a project is scheduled to last, the more likely it is to run over the time estimates and budget. So, basically, it comes down to setting a reasonable business plan and clear expectations for project implementation.
Focus on managing strategy, hire a talent qualified to do the job, align the team's incentives with the overall business goals, and deliver in an agile way.
Common mistakes healthcare startups make
Best practices are great. They are like sincere recommendations aimed at giving the recipients clear instructions on what to do to get what they want with the help of software development.
However, oftentimes, it makes more sense to look at the matter the other way around. It means considering common mistakes that people are likely to make under certain circumstances. We will give you five indirect proofs that will better illustrate how a medical startup can increase its chances to succeed.

1. Deficient industry comprehension
Preparatory to putting effort and resources into software development, the stakeholders and other interested parties have to be fully aware of the peculiarities of the digital healthcare market.
All the key members of a medical startup team have to possess a clear view of the niche their product is going to occupy. Technology-driven innovation in the digital healthcare market will make its use for patients only when the team standing behind this innovation has the industry expertise alongside tech competence.
It's a good idea to consolidate the effort taking the best of the two worlds. Involve both experts from the medical field your product belongs to and tech-savvy people who will find clues for the perfect embodiment of your healthcare startup idea.
Outsourcing software development may come in handy regarding tech solutions. But without in-depth industry knowledge, no technical proficiency is valuable for a medical startup aiming to succeed.
If you want to enable today's healthcare providers to benefit from technological innovations and allow them to take a more thoughtful approach to connect with their patients, make sure you have healthcare professionals enjoying a high level of clinical expertise on board.
2. Insufficient business planning
Focusing on the product's operational excellence is a good aspiration. However, in a digital healthcare business model, one can't underestimate the power of research. There is hardly an app that can be considered great both inside and outside the context of its application.
In the digital healthcare market, creating products and services that try to be everything to everyone sounds tempting. But it's barely possible. And in some cases, such undertakings end up as a healthcare startup fail. Maybe even an epic fail.
You have to understand the actual market needs and what competitors have come up with to meet them.

Such research data will eventually turn out to be too costly to disregard. As a startup launcher, whether you want to put the existing service on the next level, or offer a fundamentally new one, be sure that nobody has done it before you.
Here are two fields of research that are vital to conduct.
Competitor research
Digital healthcare is day by day becoming a more competitive field for startups to conquer. Of course, competition between services in healthcare, just like in any other industry, is a good thing for end-users.
It makes the prices for the services delivered on a healthcare app go down and encourages any healthcare company to improve their product quality, enhance innovation, and work harder on improving clinical outcomes for patients' personal health and consulting services.
When conducting competitor research, the first thing to consider is which category you fall into. Thus, CB Insights market intelligence platform suggested the following classification.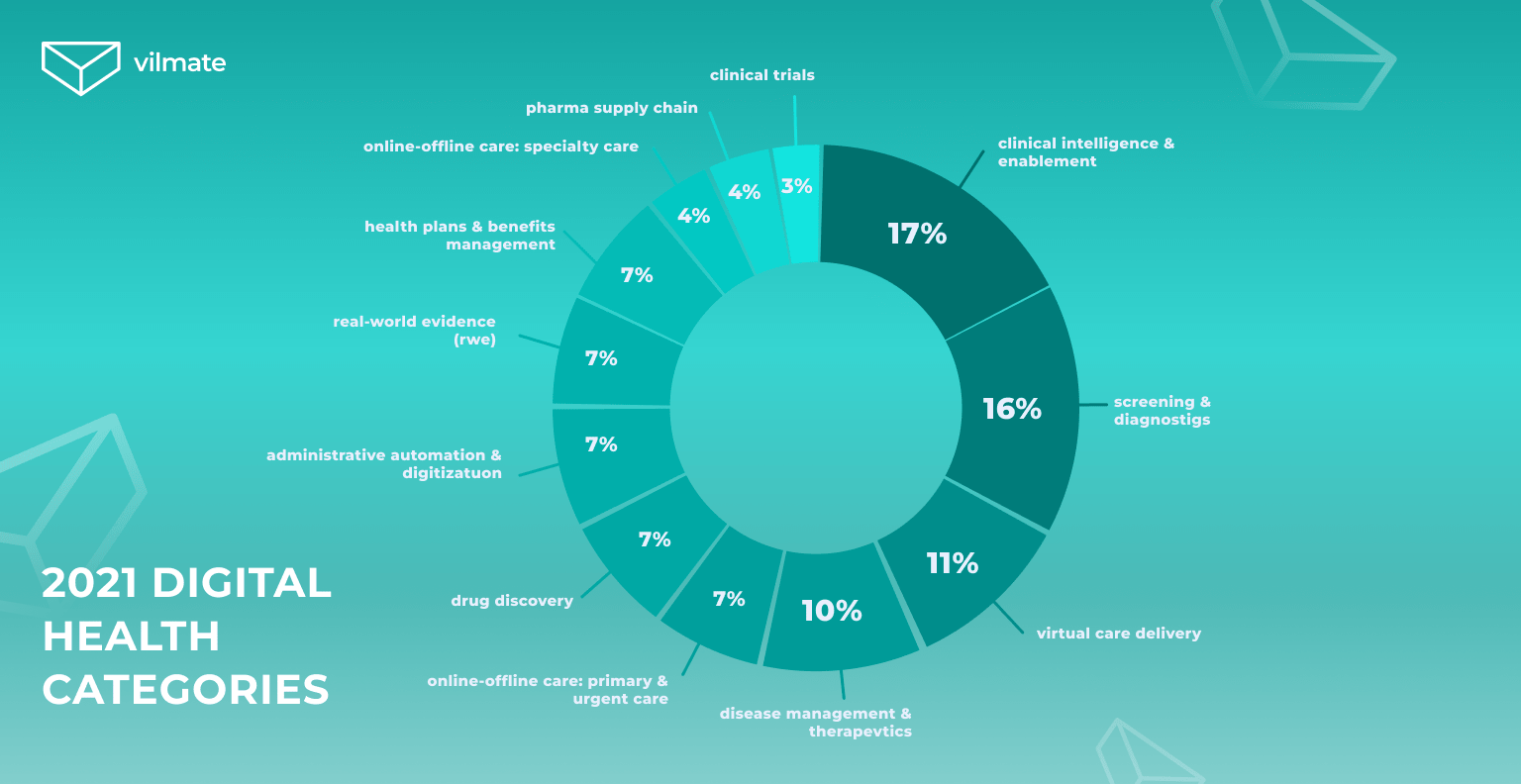 Once you've decided which particular field your healthcare company belongs to, it gets easier to assess tech novelty, the corresponding market strength, and the competitive landscape for any kind of tech startups.
Identifying competitors is not simple, but it's even more challenging to get insights deep enough for you to act upon. The information on your competitive analysis report should relate to:
competitors' value proposition
pricing models
features compared to yours
their branding
customer perception of the product
Also, don't forget about the SWOT analysis (strengths, weaknesses, opportunities, and threats.) It will help you to make up your mind about your position in the competitive landscape of healthcare. You can learn more about the SWOT analysis from this free authoritative source of Minnesota Department of Health.
User research
The company's goals and users' goals have to be aligned. User research is your certain path to having a better understanding of your target audience. For successful healthcare startups, the user is the king.
So, don't be afraid to involve not only your colleagues but also real potential users outside of your direct team during the research process. Otherwise, you risk missing out on important information resulting from a broader buy-in. Investing in digital health means investing in users' well-being.
Make sure you know which groups of people represent your target audience. Also, you need to verify that your medical app addresses their aches and pains regarding physical and mental health.
3. Staying in stealth for too long
What do we mean by stealth in this particular case? In short, we refer to postponing the release for too long. Although, as we earlier said, thorough research is vital for project success, one should not wait until the product is perfect.
The consequences of project drift can be too disruptive to overcome. So, a startup, and especially a health tech startup, should, by all means, avoid it. In order to not let your investors and other stakeholders down, we suggest you should build an MVP for your healthcare project first.
If a medical application is expected to be too complex, it can significantly affect the project timeline and have even more far-reaching negative consequences.
Sometimes healthcare startups fail in a blink of an eye. Alternatively, designing an MVP that validates the idea is a great place to start.

If the project seems impossible to complete fully before releasing it to the public, it might be helpful to consider delivering it in stages.
Find your definition of done for each step. Establish what has to be completed for one stage to be considered finished and what needs to remain in place to allow the next ones to progress.
Taking an agile approach to software development will reinforce these efforts. Successful delivery at scale is easier to achieve when agile processes replace traditional ones in digital healthcare startups. In such a way, you will be much less likely to end up moving too far, having taken the wrong turn in your medical device or mobile app development.
This approach helps stakeholders to revisit fundamental questions about the purpose and goals of the project on a regular basis. Also, the team will be able to redefine the anticipated outcomes or quality requirements and set a new timeline or budget when this change is still harmless for the business.
4. Not having a proper market strategy
The way in which you enter the market is as important as the right time for doing it. You should plan for product launch and have a detailed marketing and advertising strategy in place. Digital health is supposed to be the savior of the healthcare system, so medical startuppers should convince not only investors but also users that it's the actual reality.
Marketing mistakes are the biggest killers. They can vary from the lack of product-market fit we discussed earlier to the lack of strategy for elevating the brand in the marketplace.
Look for more details about the importance of a marketing strategy here. And we'll now focus on the latter part and define what can disrupt your go-to-market approach.
Failure to properly articulate your unique value proposition
An unclear business model and a poorly defined value proposition can be a problem for a startup healthcare company. Why is your technology in healthcare in particular better than the others in the same niche? Is it more reliable and secure? Is it cheaper than the standard of care people are used to? If not, explain why.
You have to provide answers to all the possible questions concerning your product. And you'd better be confident that they showcase your digital health solution in a favorable light.
Be ready to communicate your unique value proposition so that your audience is convinced that your solution could improve healthcare economics for each of them.
Once you've enhanced your product with a decent value proposition, you'll inevitably face another obstacle. The market is competitive. On top of that, you'll have to take full responsibility for the declared quality of your product.
Not having an end-to-end marketing strategy
A common mistake that many healthcare startups tend to make is thinking about marketing efforts in a linear manner and perceiving them as a consequence of milestones that must be achieved one after another. A marketing strategy, especially in healthtech, is not a racing line.
It's a comprehensive campaign covering a broad range of activities, from digital healthcare startups' positioning to a detailed communications plan and a diversified digital marketing program.
When forming a budget a startup company has to realize that it's not only about developing a product. A marketing campaign for convincing users of its necessity, and persuading them to make a purchase may turn out to be just as costly.
Therefore, the project team has to take care of that in the early stages – plan the efforts and allocate funds.
5. Ignoring the target audiences
A health tech startup should aim to help as many people in need of qualified healthcare services as possible. It has to be a product that would please the internal circle of stakeholders and – even more importantly – become a lifesaver for real users.
A medical startup must focus on making a product bring both clinical and commercial value. First of all, one should take a well-planned, organized approach to stakeholder outreach:
Seek out individuals or organizations that presumably can be affected by company operations and embark on an open and honest dialogue with these prospect users.
Build and nurture relationships with local and state authorities, community organizations, and other professional groups.
Provide the mentioned stakeholders with accurate information about the company's products, processes, plans, and risks.
After that, when the stakeholders are there, find out what needs are overlooked and require addressing. An unmet need is an opportunity for a business to approach an underserved market and obtain market exclusivity.
However, if you stay inside your bubble, you will never learn about those insights. Always align your focus with what the market truly needs and consistently make sure your product keeps achieving the intended results.
It will help avoid making wrong assumptions about the demand and potential use cases for the technology being implemented. Otherwise, you should move on to not let unexpected delays affect your business.
Conclusion
Be it mobile app development or any other tech, the potential consumers of healthcare startups demand consistent and pleasing services and experiences. That's a lot to handle if you expect your medical startup to grow exponentially and bring innovation with competitive services. Nonetheless, forewarned is forearmed!
At Vilmate, we face startup pitfalls and hidden struggles every day. At the same time, we are proud to admit that our experience has made us prepared to address all the above challenges, and our expertise has equipped us well to handle projects of varying complexity.
If your healthtech startup needs a strong team of seasoned software engineers, take a look at our Services section, and let's get talking!
Subscribe now
for monthly digest