The mobile app development for healthcare looks more and more like a potentially useful idea. 2020 is definitely the year that is bringing innovation to the digital health space, so in this time of unprecedented medical crisis, the demand for secure and usable health solutions – and health insurance mobile apps particularly – becomes an integral part of the process.
The mobile health (mHealth) market is booming worldwide. Recent research predicts its size will reach USD 57.57 billion by 2026, exhibiting a staggering сompound annual growth rate of 29.1% between 2019 and 2026. Besides, since mHealth is an umbrella term covering the general practice of mobile-supported public health and treatment management and health insurance is for some people the only way to access healthcare services, it will be safe to say that the changes in mHealth will inevitably affect, among others, the way health insurance services are provided.
Due to strong consumer demand, mHealth apps are expected to observe a surge in the growth rate over the next few years, altering such industry segments as health monitoring, wellness management, diagnostics, treatment, and health insurance. Keeping pace with the other mHealth fields, the global health insurance market is also anticipated to grow. By 2026, it is estimated to reach $4,475 billion, expanding at a CAGR of 4.4% from 2019 to 2026. This universal upward trend suggests that it is the right time to take action and seize the opportunity to make healthcare more accessible to millions of people.
In our article, we are going to discuss what health insurance mobile app models are there on the market and what advantages these applications can bring to patients and insurers. We will also look into what steps to take when developing your own health insurance app, how much it may cost, and what companies to take into consideration, building your project strategy.
Health insurance mobile app models
The extent of public and private health insurance coverage differs from country to country. Some insurance systems are more difficult to understand than others. In view of this, a health insurance mobile app can become a smart personal assistant that would make life a bit (or a lot, it depends) easier for a patient, a healthcare provider, and an insurance company.
A health insurance patient app - Patients need a means to easily access arguably the most important information related to their overall health. A health insurance app usually serves as a digital file cabinet that stores organized patients' medical records, including information on health insurance claims processing and benefits. Connecting insurance-related data from different sources in one place, a mobile application allows users to spend less time managing their health and more time living life. This is not the only advantage of a medical insurance app for patients, and we will soon look into what else it can offer to users.

An app for healthcare providers - By developing an app for healthcare providers, you can empower them to securely draw any information they need from a single source. Checking if the documents are valid, whether a patient is entitled to direct billing, and more – a health insurance app will integrate new technologies as part of the healthcare digitization journey and make the everyday routine related to the handling of insurance issues less burdensome. Medical providers need a specialized solution to get things done in an agile way. Collaboration is key, and it can be maintained by the use of an insurance app for healthcare providers.

An app for the processes inside insurance companies - Although insurance as such is a highly traditional industry, the technological change has been exerting more and more influence on it over the past few years. The need to maintain the coverage affordability, in this context, remains one of the main drivers for all the actors in the healthcare field. In particular, it makes insurers develop the agility and flexibility needed to warrant that the patients covered are satisfied and get help when necessary. To navigate the complexities this can entail, insurance companies require a medical insurance app.
The advantages of medical insurance apps
As we might guess, health insurance mobile apps can benefit patients, medical providers, and insurance carriers alike. For now, let's focus on what advantages such applications introduce into the lives of patients and insurers.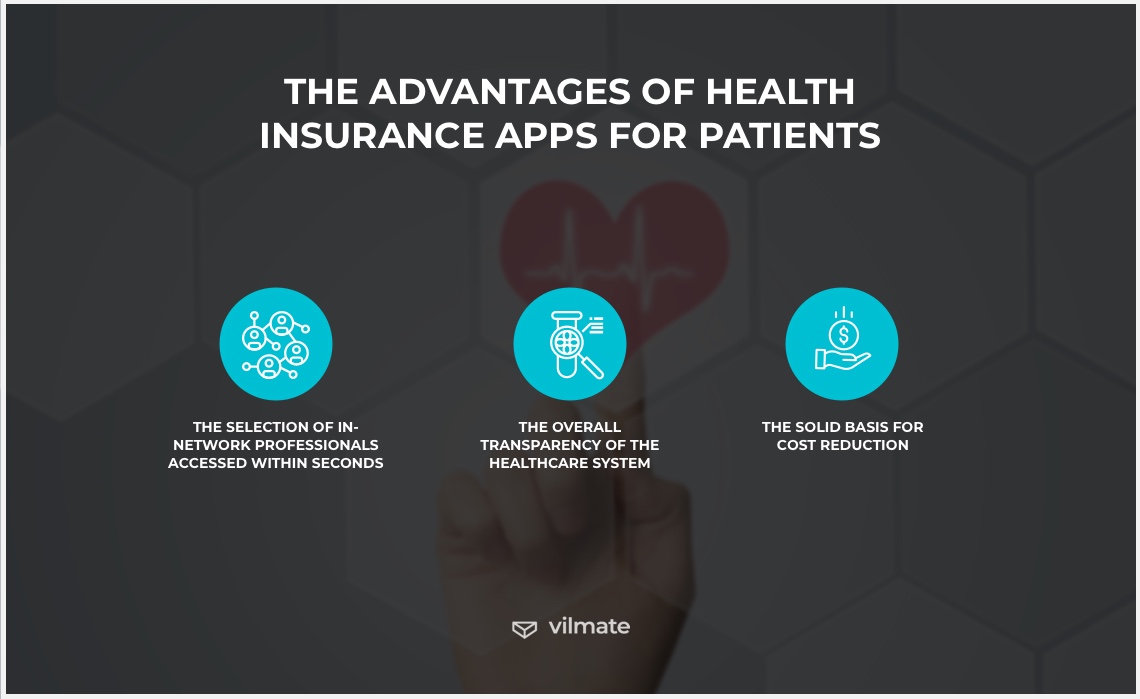 Benefits for patients
1. The selection of in-network professionals accessed within seconds - Accessibility of information about doctors within a mobile app is a huge plus for patients. The users will only need to take a few taps on the screen of their smartphones to find the right provider that would fit the given criteria. The insurance medicine means you always must keep track of whether the specialists you see are in-network ones so that the appointment could be later covered by your insurance provider. It is a truly sensitive issue, especially given that in the US, the percentage of plans that offer out-of-network benefits has fallen significantly from 58% in 2015 to 29% in 2018, and the downward tendency persists.
Customers of health insurance companies normally have no idea if the doctor they are sent or referred to is available under their current plan. The health insurance app, in turn, can provide you with comprehensive information about the price, quality of service delivered, and whether the facility can accept your insurance.
2. The overall transparency of the healthcare system - As a rule, a health insurance app provides full data visibility and transparency, giving users access to all insurance-related information on a single dashboard. The app for medical insurance can serve as a convenient data storage where data is collected and stored in a secure, up-to-date, and consistent manner. The customer mobile app provides healthcare beneficiaries with increased transparency of their healthcare information and makes it easier for them to be deeply involved in their healthcare decisions.
Visibility into the used benefits, deductibles, claims records, and more in a digital format also means the elimination of the excessive paperwork, which lets one take an unbiased look at the situation. The possibility of downloading an electronic version of their claims records and matching them with other health records empowers healthcare beneficiaries to control their medical information better. Besides, they will most probably be the ones who can permit or restrict access to the data and choose to share it with others.
3. The solid basis for cost reduction - Medical insurance applications provide instant access to a proper policy selection, which opens up a potential for substantial savings on healthcare services for people. An application can help compare personalized and unbiased recommendations based on a patient's health and income, monitor their coverage and medication prices. Ideally, a user must be able to configure notifications to get alerted every time some critical change in their plan, coverage, or pricing is detected. Besides, a mobile app is an excellent means for getting discount coupons and various cost-saving offerings sent directly to the user's inbox.
Personalized recommendations provided within a healthcare insurance app is something that guarantees a particular user gets the info he or she needs and deserves. Then, when a user fully understands the available options, he or she becomes empowered to make smart choices, leading them to healthcare services and drug costs reduction.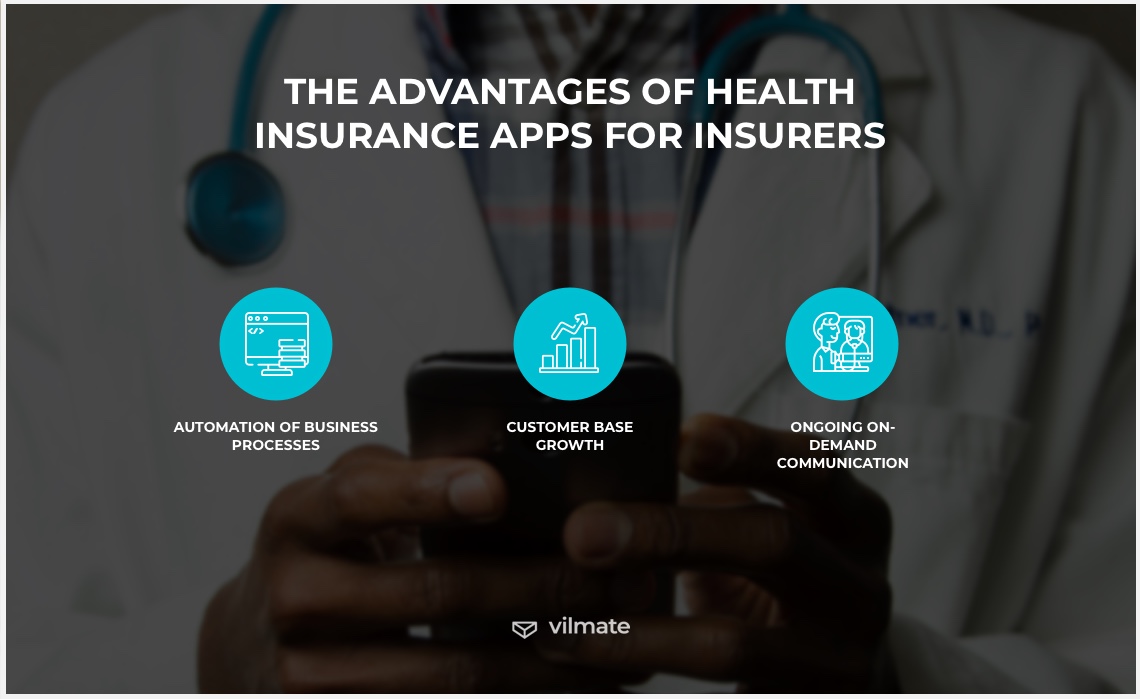 Benefits for insurers
1. Automation of business processes - Modern tools built into medical insurance applications can automate processes, easing the effect of inefficiencies and optimizing both personnel and systems utilization. Applied wisely, they must turn out instrumental in simplifying internal IT architecture and establishing standardized processes.
Simplification of complex workflows and acquisition of the right information for optimum decision-making are among the expected positive outcomes of automation. Modernization of the legacy systems can lead to an increase in the number of transactions handled and the volume of papers generated in a digital format daily. Then, companies will be able to focus on customer retention, acquisition of new customers, new product delivery, and quality assurance of the services they provide. Besides, paper removal and focus on case management automation can support the cost and settlement timeframes reduction.
2. Customer base growth - Automation of the processes related to insurance services delivery also results in overall customer management improvement. Effective and efficient technology-enabled customer service is easier to ensure when all the necessary data can be accessed and managed through the power of the back-office functions. Critical information like data on policy processing, billing, or claims must be readily available when an insurer works on a case or communicates with a client.
Naturally, the number of people using the insurance app will increase. However, the health insurance app has to do a bit more than merely exist to help insurers reach broader audiences. The health insurance application for insurance companies needs to be designed in such a way to decrease customer request-response time, optimize turnaround time, improve consistency, and provide all the critical metrics that allow evaluating customer service quality.
3. Ongoing on-demand communication - When it comes to health insurance, superior customer experience is closely linked to the constant communication between a customer and an insurer. Not only does it increase the customer experience, but it also helps retain existing clients. Supported by medical insurance apps, insurance providers will be able to maintain an ongoing connection with patients and respond to their inquiries on-demand.
Chatbots are an alternative option that could give users the support they need when no insurance agent is available to discuss an occurred issue. Chatbots are there around the clock and empowered by AI technologies like text or voice recognition. Moreover, this technology keeps evolving, so the quality of the answers provided is bound to improve as well.
The stages of health insurance app development: What to keep in mind
No matter what type of health insurance app you will eventually go for, the app development process will inevitably comprise the three main stages: software development, compliance assurance, and product testing, followed by its release. Let's address each of the steps individually and discuss what aspects deserve a more thorough consideration from the project team.
1. Designing your health insurance app
Health insurance plans comparison - It should not be necessary to turn to the employer, government, insurance carrier, or broker to get the list of available health insurance options and choose the coverage. So that this choice would not affect your wallet in the future, it is important to understand the differences between plan types, whether it's your first time purchasing health insurance or another attempt to switch plans. A health insurance app can educate you about the benefits and pitfalls of various coverage options, let you compare them unbiasedly, and select the one that fits the needs best.

Claims management - One of the fundamental advantages of a health insurance app is instant access to healthcare data. The viewing, searching, and bookmarking of claims quickly must facilitate the health-related documents management for a single user. Meanwhile, the ability to submit, review, and check the status of pending claims from near and far, only using a smartphone, can become a real game-changer for many customers. Streamlined claims-related operations, as well as automated and customized workflow, should be visualized on an enhanced user dashboard so that users paying claims for them and their families could be sure they won't miss anything.

The purchase or renewal of a health insurance plan - Once a perfect health insurance plan is found, it must be paid. Once the policy period ends, the insurance must be renewed to keep that policy active and enjoy continuous coverage. A medical insurance app for Android and iOS must facilitate these processes. Customers will most probably expect that insurance purchase and renewal will follow a simple and easy process when done online. So, app providers cannot but meet the expectation. Allow users to review renewal terms, prompt them to check out other options, and remind them to renew their policies before the due date.

Payments management - Plan purchase or renewal requires reliable ways of operating to ensure accurate payments. Complete and accurate information is imperative in billing and payment processing. It helps lay the foundation of excellent consumer experience in users' healthcare relationships. In this regard, the best health insurance app must be flexible about the billing solutions it offers. Then, it will able to quickly and accurately enroll new members, streamline invoice processing, manage complex contractual and payment relationships, ensure correct adjustments, and grant flexible calculations for commissions and incentives.

Search for in-network healthcare providers - Finding in-network providers nearby by specialty or location is a possibility that a health insurance app must provide to its users. Different health insurance plans contain unique health benefits, as well as exclusions and limitations. The range of health care specialists whose services can be covered by a given policy is restricted in an individual way, too. So, the ability to locate in-network urgent care centers or other facilities when they are needed can be an immense cost saver. As a plus, you can add access to the current waiting time at different in-network providers, hours of operation, driving directions, and a healthcare facility's contact information.

Setting and rescheduling appointments - After a patient finds a provider who they can safely set an appointment with, administrative arrangements should follow. To book appointments for themselves or someone else, users must be provided with an easy step-by-step guide on submitting requests via a mobile medical insurance app. As the circumstances can change any minute, patients have to be empowered to make amendments to their upcoming bookings or cancel them within the app.

Search for medications and medication prices comparison - There are quite a number of mobile applications that promise to cut your costs at the pharmacy counter. Yet, why not give users an all-in-one solution? So, you purchase an insurance plan, find a healthcare provider, book an appointment, and then use the same app to search for the prescribed medication at the lowest price possible on the market. Convenient, isn't it? Also, money-saving tips, information about rewards programs, search by location, detected using GPS or entered manually, and more – the experience of purchasing prescribed drugs can be made better.

Lab results management - A health insurance mobile app can also go so far as to allow users to securely track their lab results. Turn your product into a fully-fledged insurance-focused electronic health record. Labwork, X-rays, and other papers that patients get after their appointments are all important documents that should be easily accessed in the app. For example, it should automatically put doctor's appointments, as well as the upcoming lab tests, on the patient's device's calendar.
2. Fitting the existing healthcare regulations
Regulation remains one of the most challenging aspects of the health insurance industry. Compliance demands from federal, state, and other regulatory bodies are increasing. So, it is vital for organizations to keep abreast of all regulatory changes. These are the key regulations that every health insurance app provider must ensure compliance with.
HIPAA and HITECH - The Health Insurance Portability and Accountability Act (HIPAA) and the Health Information Technology for Economic and Clinical Health Act (HITECH) are the two most important documents for the digitized healthcare industry in the United States. HIPAA covers information about a person's health or healthcare services classified as Protected Health Information (PHI). The HITECH Act further expands those privacy and security protections, introducing increased legal liability for non-compliance and added enforcement actions, defining compliance requirements for business associates, and more.

GDPR - the General Data Protection Regulation (GDPR) is the primary regulation on data protection and privacy in the EU. It designates health, genetic, or biometric data as a special category of personal data that must be given additional protections. GDPR explains clearly under what conditions digital apps, health-related ones, among others, process user data lawfully and what can be considered a breach of privacy.

PIPEDA - Personal Information Protection and Electronic Documents Act (PIPEDA) is the key data protection document for Canada. PIPEDA healthcare data restrictions actually mimic the compliance standards laid out in the US HIPAA, and all Canadian consumer personal data falls under its jurisdiction. Although PIPEDA applies to all consumer data and not only to healthcare-related information, violation of this act by a health insurance app provider will inevitably launch a formal investigation and may result in fines of up to $100,000 CAD.

PCI-DSS - Payment Card Industry Data Security Standard is a global information security standard that requires compliance from organizations processing payment card information as part of their operations. All businesses must follow it to secure and protect cardholders' credit card data and other information transmitted through card processing transactions. In a way, PCI and HIPAA have certain similarities, and by ensuring compliance with PCI-DSS, one will most probably also comply with the encryption requirements set out in HIPAA.
3. Testing and releasing your product
The above two steps should lead you to the point where the developed product's quality must be checked before the application is released to the public. Following the scheme we described, you will be able to create several health insurance apps – for patients, healthcare providers, and insurance carriers. And the broader spectrum of tasks this app will cover, the more thorough the testing process will be. It's also the right time to think through how you'll communicate with consumers and how you'll provide updates for products to remove the arising vulnerabilities and flaws.
The best apps to manage health insurance
When it comes to successful real-life examples of how health insurance apps can be developed, there are some cases that should be considered. They all focus on different aspects of providing healthcare services via a mobile app but definitely have once made the right call and are now big players on the market.
1. Aetna Health - Aetna is a large provider of health insurance in the United States. The Aetna Health App is the company's all-in-one resource that allows patients to look for doctors, in-network providers, specialists, and walk-in clinics, control the status of their claims, coverage, and costs, manage their prescriptions, and keep up to date with their benefits. The Aetna Health app is free to download in both the App Store and Google Play.
2. Zocdoc - Zocdoc is a convenient insurance checker that can be accessed right on the user's smartphone. It is a digital health marketplace that millions of patients use to find a doctor who will accept their insurance, receive important checkups reminders, fill out waiting room forms online and book appointments based on the available appointment times and other users' verified reviews. The Zocdoc doctor booking app is now the industry leader, similar to what Yelp is for restaurants or TripAdvisor for vacation travel.
3. Oscar Health - Oscar is a direct-to-consumer health insurance company founded in 2012 in New York. Their mobile app Oscar Health is a digital solution available on both Android and iOS devices that, as of 2020, is used by over 400,000 members in the United States. Using the app, patients can view their health history and speak with a personalized Concierge team. The company operates in b2c to deliver services to those who do not have insurance coverage through the employment contract. The company aims at keeping employer-defined plans out of the healthcare industry so that more consumers could turn to Individual Coverage Health Reimbursement Arrangements.
Conclusion
Health insurance is an industry that is open to innovation. Health insurance app development is one of the optimal solutions that can help improve engagement, quality of care, and overall customer experience. As you can see, this process involves lots of moving parts that have to be taken care of. However, with a well-versed and experienced team on board, everything is possible!
Looking for a software development partner for your health insurance project? Send us a request and get a quote for custom development services. Or else, let's schedule a consultation to discuss your idea in more detail!

© 2020, Vilmate LLC
Subscribe now
for monthly digest