It's not the first time we've touched on the topic of healthcare in our blog. The sphere of health is a huge playground for the implementation of digital technology. So it's time to see the interrelation between tech and healthcare services, cover the target user groups, and answer the big question of how to create a health app.
In this text, we'll also look through the types of medical applications, the app development process, the average costs for health app-building services, and share our experience of participation in such projects.
Do we need another health app? The present and future of digital healthcare
Whatever lifestyle you try to lead, at least a couple of times in a lifetime, each of us finds ourselves in the role of a patient. Medical institutions number thousands of employees of different ranges. Plus, dozens of healthcare-related services like dietary, recreation, fitness, etc., constitute a fair share of the overall market. It means that most of the global population is involved in the sphere of healthcare to some extent. 
Currently, you can find about 50,000 mobile healthcare apps of multiple orientations in Google Play, with approximately the same amount in App Store. The mHealth apps market in the United States only is projected to reach the astounding figure of 300 billion dollars by 2025. And the global market has increased fivefold in the past 5 years.
Such data illustrates that the investors' interest in healthcare startups and mobile app development is growing exponentially, and the demand for healthcare app development services will go up respectively.
Let's now see which categories are most common for a medical app that you can download on your phone or stumble upon in a hospital or a research center.
The main types of mHealth apps
Depending on the target user groups and the purpose of the products' application, healthcare apps can be roughly divided into 3 main groups.
General health app
Such a healthcare app can be used by the general public without the involvement of medical personnel. These apps' functionality is usually aimed at data tracking, assistance in following procedures, physical activity checks, and so on.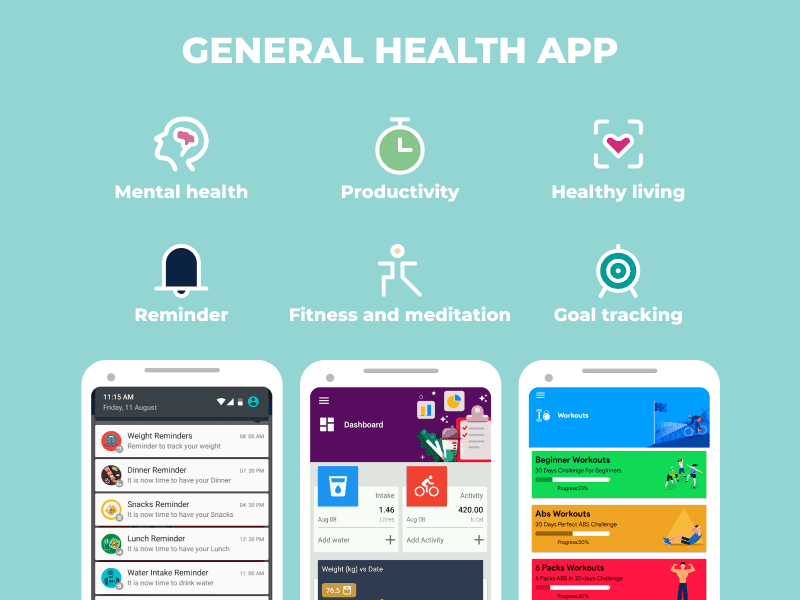 On the whole, they fit into one or several of the following types:
Mental health apps
Productivity apps
Healthy living apps
Reminder apps
Goal tracking apps
Fitness and meditation apps
These mobile health apps can also be bound to wearable devices and actually fit almost any age, gender, or status social group. Good examples of such apps are Health Pal, Elevate, and Fabulous.
Specific medical app
This app type is mostly oriented toward medical specialists. They can be used for analytical purposes, assisting in making a diagnosis, storing and providing access to patients' medical records. Such mobile healthcare apps can operate together with medical equipment and often require careful and delicate settings.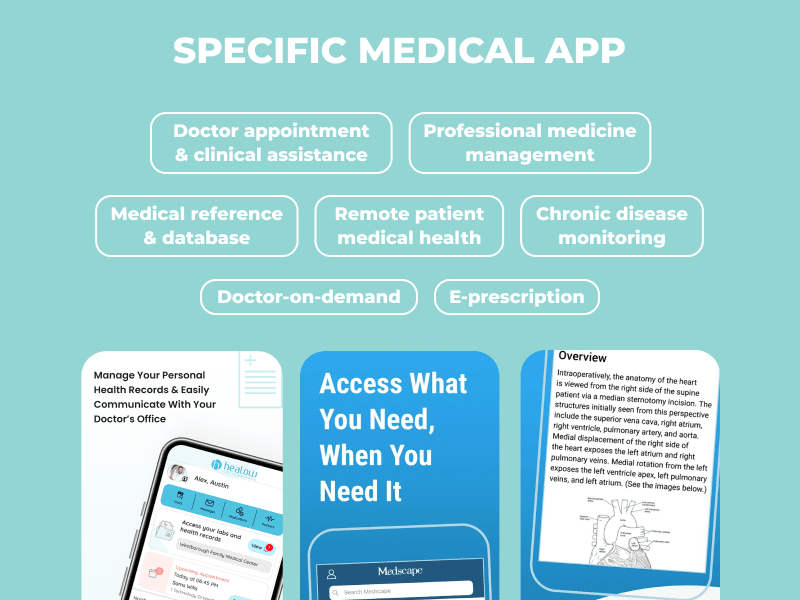 The following types perfectly describe their purpose and usefulness:
Medical reference & database apps
Professional medicine management apps
Remote patient medical health & chronic disease monitoring apps
Doctor appointment & clinical assistance apps
E-prescription apps
Doctor-on-demand apps
They're mostly not for the general public, and their web and mobile app development may be more costly and time-consuming. Medscape, Medical Records, and healow belong to this category.
Telehealth app
This type of healthcare mobile apps is useful for both patients and doctors. They may combine the features required for built-in diagnostics and remote healthcare services. Such products require custom health app development to ensure stable medical information exchange between parties.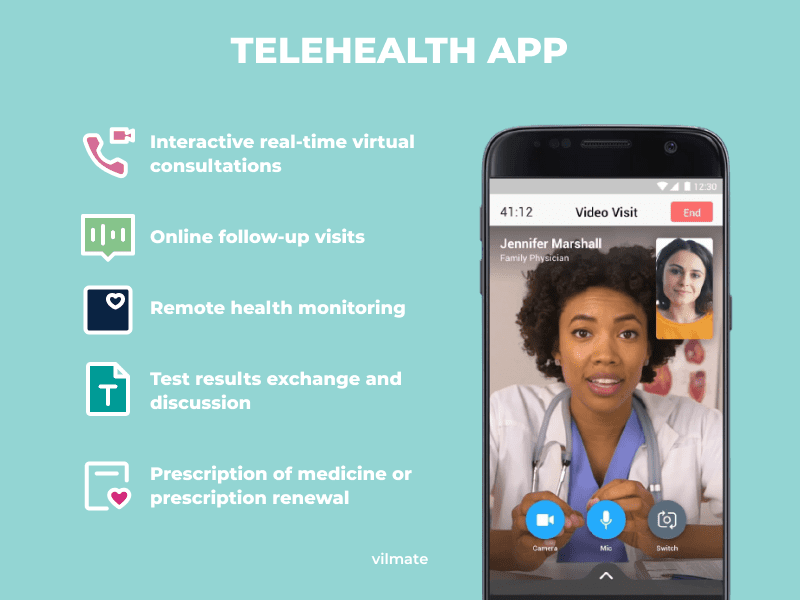 Remote medical services are in great demand nowadays, so a good idea for a telehealth app may turn out to be of great market value. Doctor on Demand, PlushCare, or Amwell can serve as good proof of that.
Picking the corresponding digital healthcare app category sets the ground for further accurate estimation and effective healthcare software development.
Let's now focus on a step-by-step procedure for a mobile application to be successful in the healthcare industry.
The 4 main steps of the medical app development process
The overall understanding of a picture helps in fracturing the tasks into smaller pieces. We'll be focusing mostly on healthcare apps, though this information may also suit a mobile application pursuing other goals.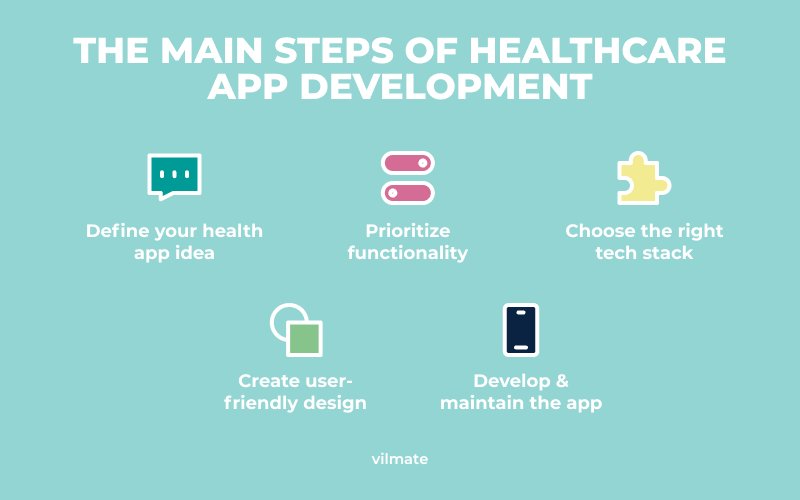 Define your health app idea in a bundle with the target audience
Obviously, the idea precedes the effort. And in our case, the user precedes the idea. Regarding medical apps, the realization of who you're developing a product for shapes the future of the application development process and marketing campaign. So the discovery phase is what starts the whole thing, and its first step is identifying 'your' users. 
Depending on whether it's for medical professionals, healthcare providers, or regular patients-slash-users, a healthcare app idea overgrows with potential functionality, visual features, and general appeal.
There are plenty of healthcare application examples. Let's take the Apple Health app. It's oriented toward the general iPhone users that involve practically all social groups. Therefore, their healthcare app developers made the design neutral, filled with multicolored infographics, sharing options, and the possibility to bind to other wearables.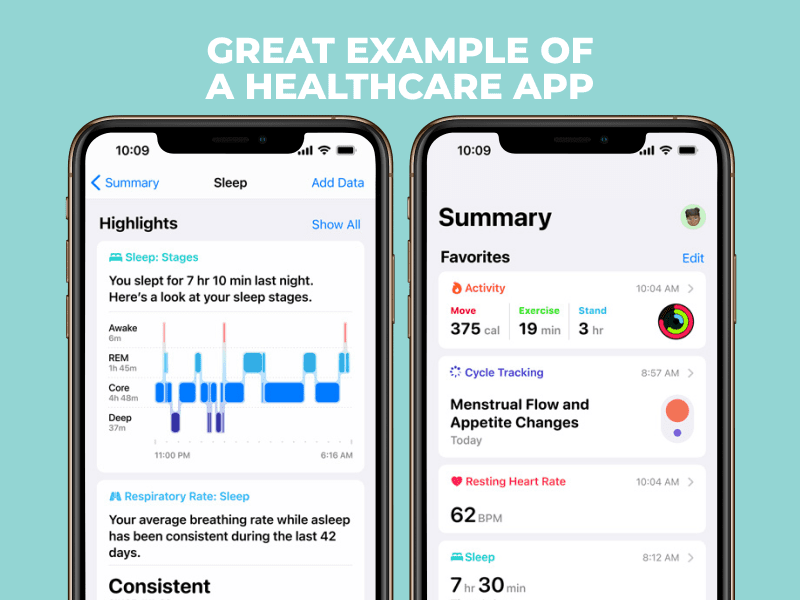 The data this health app collects and stores is put in such a way that it provokes interest not only in terms of medical applications. Questions like 'How many pumps does my heart make per day?' or 'How does my pressure change during sleep?' have always been interesting even for conventional users.
So the healthcare app developers tried to give you the feeling that you're an adventurer exploring your body with this mobile health tool.
Apply the functionality hierarchically
Operational features are what potential customers will directly interact with in your medical app. Modern tools of mobile app development offer a huge variety of options. So the main task, especially in the first stages of mobile healthcare app development, is not to spray your feature set. Otherwise, you may find yourself expanding the time and resource limits to the point of unacceptable during mobile app development.
Building an MVP (minimum viable product) or a prototype will help you determine what it would take to maintain your healthcare app on an ongoing basis, distinguish the primary from secondary aspects, and predict its on-the-market lifespan.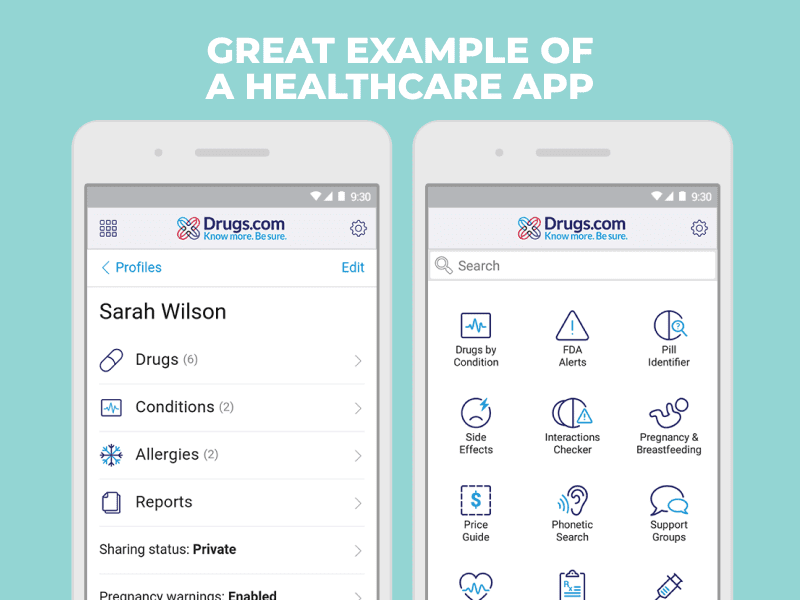 A good example of a goal-oriented feature set in a medical app is Drugs.com. The main purpose of their mobile healthcare app is to provide users with information related to hundreds of drugs and other medical records. So in order to build a medical app needed, the developers concentrated on creating properly functioning interrelated libraries, lists, catalogs, and search systems for their healthcare technology.
So what can an average medical app contain?
home page
registry forms for doctors and patients
scheduling options
text messaging
video calls
notifications
electronic health records storage
And that's to say the least. On top of that, modern techniques may also involve artificial intelligence and machine learning features, IoT applications, cloud hosting, automated chatbots, and anything you can imagine or afford.
Choose the tech stack of your health app orienting on the long battle
Once you've completely made up your mind about who your medical app is for and what you'd like to see in it, it's time to figure out which technological means are most suitable for accomplishing the projected goals.
A technology stack for a medical app includes a number of aspects. Programming languages, frameworks, libraries, and deployment options have to complement one another to ensure stable client-server interaction. Not to mention third-party integrations, artificial intelligence features, and the necessity of being cross-platform, everything will have an impact on the final outcome of a healthcare app.
Don't rush with your decisions regarding healthcare application development. Picking tech stack components can be compared to making investments in the future of your mobile health product. Moreover, the choice of a tech stack directly influences the precision of your further project estimation and successful custom health app development.
Let's assume that you decided to launch a telemedicine health app to provide certain remote healthcare services. It will inevitably involve client and server parts of functionality. Even though revolutionizing the market may not be your first priority, sticking to standard practices still requires quite a lot to consider.
As it goes from the previous point, choose a tech stack according to the approximate envisage of a health app prototype. And expect its intensive maintenance and increase in scale in the next few months. The most common solutions are presented on our Technology service page. Be sure to check, it's free of charge :)
Consider users' expectations: a healthcare app is still an app
Regardless of the type and target audience of a healthcare app, keep in mind that the audience, in any case, expects a certain user experience quality. It includes appropriate medical app design to encompass your application idea.
Here are a few rules that can't be ignored when designing a product, including a digital healthcare app.
Ensure intuitive and clear navigation.
Pick a corresponding design color palette.
Follow the common patterns of the size of icons and blocks.
Opt for interface user customization whenever possible. 
Focus on the main working features firsthand.
Be aware of the competitors in order not to be too repetitive.
Consider scalability from the very beginning of your app development process.
If you skip even one of these points, it may result in a mistake on a strategic scale and make your healthcare app idea eventually drown.
Where to find a health app development provider?
So what does it cost to build a healthcare app? And who can help in the diversiform process of healthcare app development?
Price rates for services across the globe vary immensely, corresponding to the cost of living, taxing systems, and market competition in the region. Here, we'll be talking about average prices and estimations in the context of a Ukrainian outsourcing company.
The average rate for outsourcing companies in Eastern Europe is around $50 per hour. This rate corresponds to the companies which have a certain level of experience and reputation in the market of healthcare app development. Look through the list of up-to-date services and estimations to form a clear picture regarding such a vitally important aspect.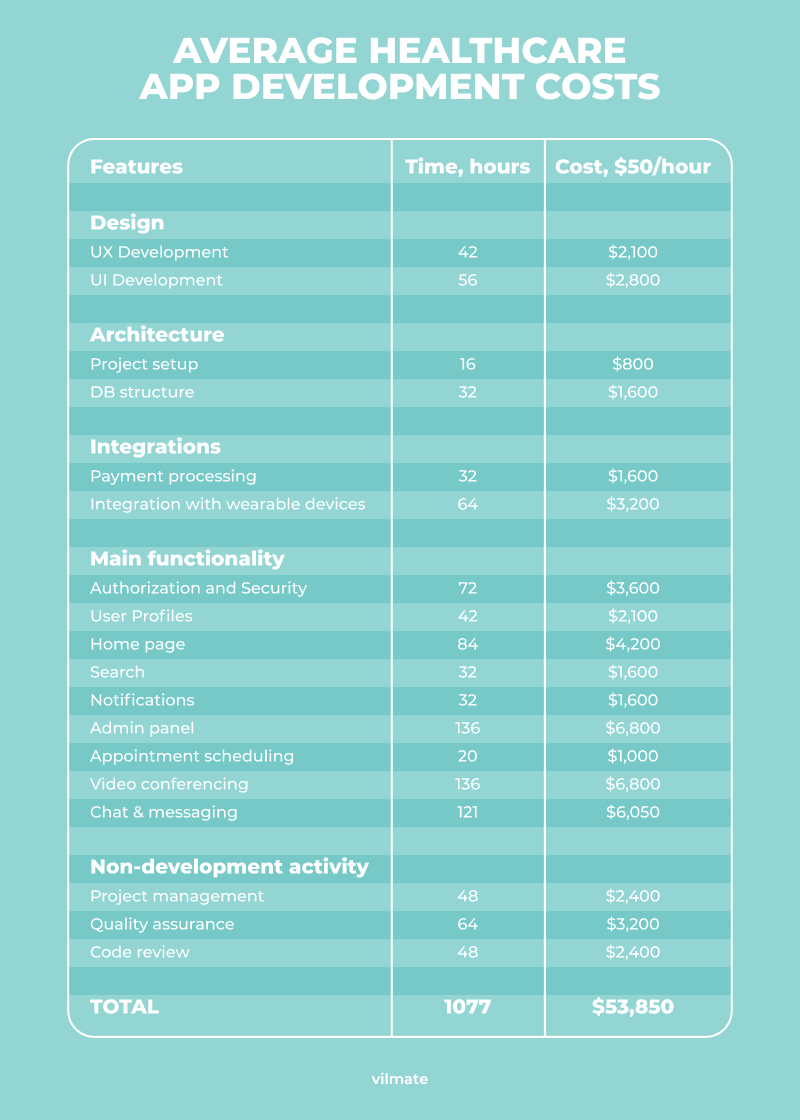 As you can see, if you want to delegate the production process to a Ukrainian outsourcing company and provide a satisfying user experience with your mobile application, the healthcare app development cost is negotiable.
Basically, building a medical app and stating the ground for a successful launch will cost you from $50,000 to $100,000. However, healthcare app development services are not limited to merely creating a medical app. Product maintenance, update, and marketing can also be included if necessary.
Our experience in healthcare app development
Vilmate was lucky to provide healthcare app development services to the company which truly makes the world a better place.
Geras Solutions is a Stockholm-based healthcare provider that deals with cognitive impairment and dementia risk assessment, prevention, and treatment. Their medical app serves as a digital tool for cognitive screening tests performed by the patient at the clinic or home. With the help of this healthcare application, patients are assessed on memory, visuospatial ability, executive functions, attention/working memory, language, and orientation.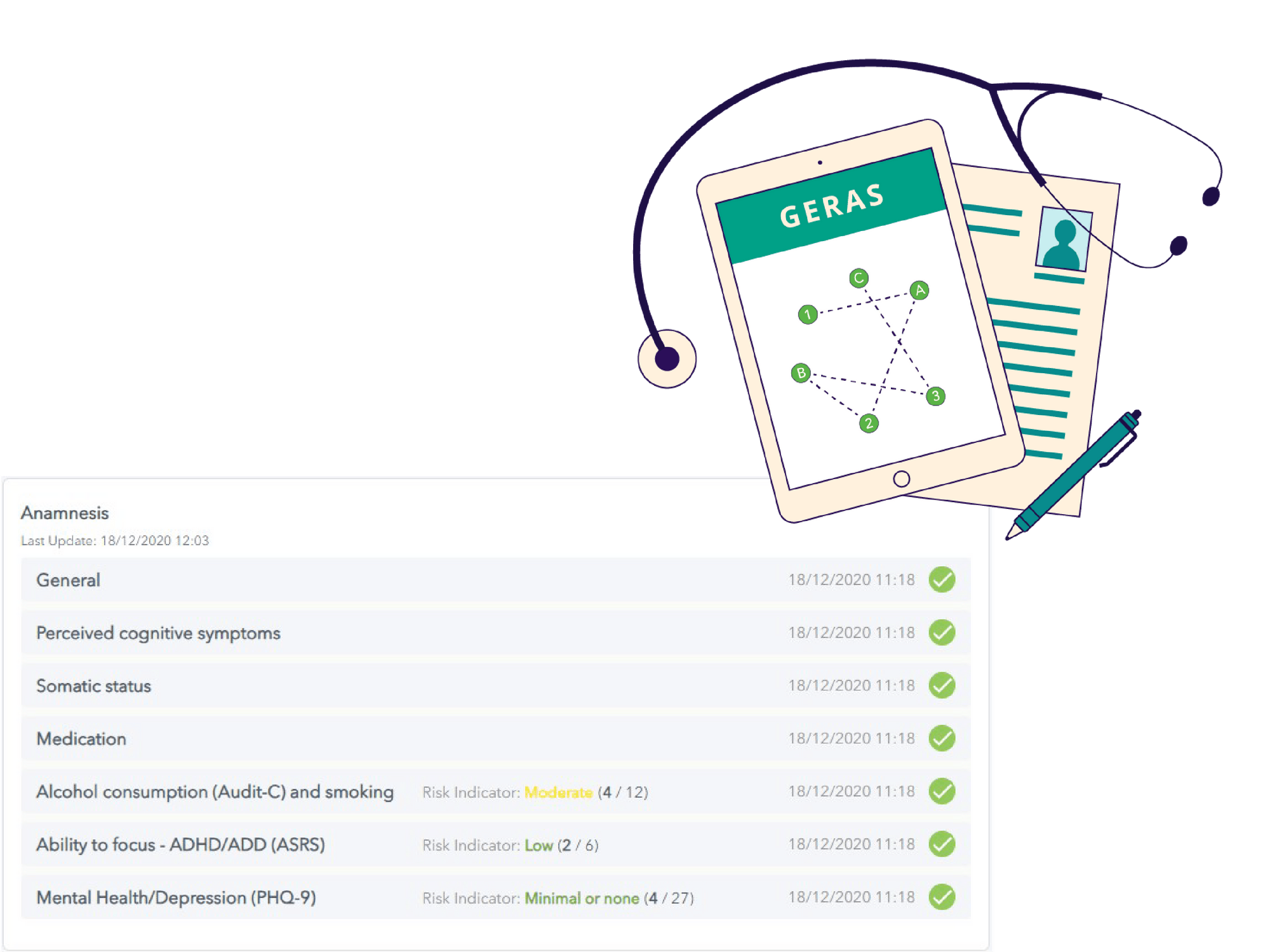 Subscribe now
for monthly digest